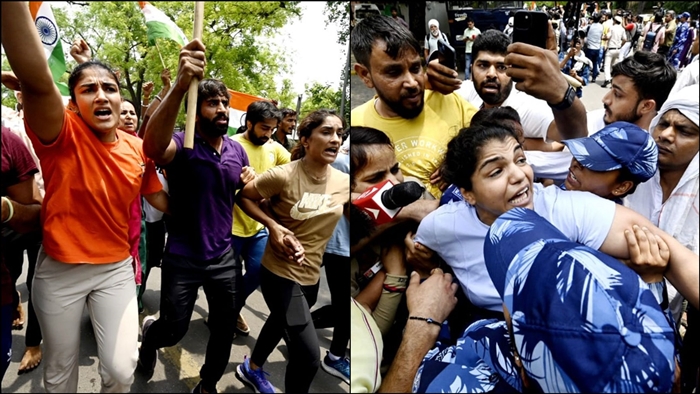 New Delhi (India), 30th May 2023: Olympic medalists from India, including Bajrang Punia, Sakshee Malikkh, Vinesh Phogat, and Sangeeta Phogat, said in a public letter on Tuesday that they will travel to Haridwar and immerse their medals in the Ganga at 6 pm.
The wrestlers, who were detained after being relocated from their protest site at Jantar Mantar, have also announced that they will go on hunger strike at India Gate. This is the most recent update in the ongoing protests being held by wrestlers in India against Brij Bushan Sharan Singh.
The letter addressed in Hindi and shared by the wrestlers said, "We intend to immerse these medals in the Ganga… The more sacred we regard the Ganga, the more sacredly we have earned these medals through hard work. These medals are holy to the entire country, and their proper location should be in the Ganga itself."
The statement also condemned Prime Minister Narendra Modi for inviting Brij Bhushan Sharan Singh to the inauguration of the new Parliament building on Sunday. According to the wrestlers, Prime Minister Modi, "who calls us our daughters," did not express any sympathy for the wrestlers even once.
However at the same time the Bollywood industry has largely been silent on the issue. Something that rubbed salt into the wounds of wrestlers and netizens alike was the fact that Bollywood celebrities such as SRK, Akshay Kumar, Hema Malini, and Anupam Kher praised the "new Parliament for a new India."
These stars were largely called out on the internet and people questioned the stars about their integrity through questions that were posted on Twitter.
Jyotsana Mohan a Twitter user wrote, "Aamir Khan, Priyanka Chopra, Parineeti Chopra.. all have run to play roles in movies based on stories of Indian sporting stars. Where are they now? Priyanka had also spoken out for Black Lives Matter. #Bollywood #WrestlersProtest #IStandWithMyChampions."
A person tagged Shah Rukh Khan's tweet and said, "Shah Rukh Khan tweeted for the new Parliament but no support for our champion wrestlers. Feeling sad as a feminist, farmer and Bollywood fan."
Another added, "Shahrukh Khan got support from everyone when some people were against his movie and were planning to ban it but today the same SRK hasn't tweeted anything about the wrestlers protest but has chosen to recite a script written by the Govt for parliament's inauguration."
One fan reprimanded Akshay Kumar and said, "Hey @akshaykumar you have time to praise the new parliament but not a single word about what's happening in wrestlers protest ? Shame on you."