India's G20 Sherpa given a Demo of the Digital India Mobile Van
Ten News Network

National (03/02/2023): India's G20 Sherpa, Amitabh Kant was given a demo of the Digital India Mobile Van at the Sushma Swaraj Bhawan, here yesterday. Soon after, the mobile van was sent off to Lucknow, where the first meeting of the G20 Digital Economy Working Group is scheduled from February 13-15, 2023. The Digital India Mobile Van will tour various other cities in the country as well, enlightening citizens about G20 DEWG and Digital India's key initiatives.
This innovative creation on wheels is a testament to the unwavering commitment of the Government of India to keep its citizens informed, empowered and up to date on the remarkable journey of Digital India. The Digital India Mobile Van is a veritable treasure trove of cutting-edge technology, brimming with a wealth of knowledge and insight into the crucial initiatives of Digital India and some of its key initiatives, including PMJDY, DigiLocker, Aadhaar, UMANG, e-Way Bill, e-Aushadhi, Aarogya Setu, Co-WIN, e-Rupi, and India Stack Global, amongst many others.
India's G20 Sherpa Amitabh Kant spoke about his observations post the demo "This mobile facility brings out all the digital public goods and the digital public infrastructure that India has created.  All of them from UPI to DigiLocker to Co-WIN to Fastag to DIKSHA to SWAYAM, all of them are on display here. Everyone will be able to see this remarkable product. People will learn how to use these digital public goods. This is the best way to reach out to the masses and create a Jan Andolan. G20 is all about Jan Bhagidari, all about involving citizens of India."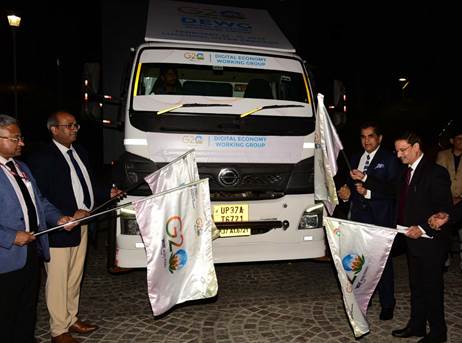 The Secretary, MeitY, Alkesh Kumar Sharma said "Under the visionary leadership of our Prime Minister, India has done substantial work in the sectors of Digital Public Goods and Digital Public Infrastructure and our endeavour has been to explain this in a very simple and easy manner through the Digital India Mobile Van. This van will go to schools and colleges, wherein children and citizens will come to know what strides India has taken in the field of technology and learn about how technological leapfrogging has taken place in India."
To give impetus to the uptake of digital services in the country and raise awareness about various initiatives under the Digital India Programme, the mobile van will offer citizens a unique opportunity to experience the power of technology first-hand. A grand display of Digital India's iconic journey through an immersive show will take them through the major milestones of Digital India since 2014, bringing to life the advancements that have been made in the digital space.
President & CEO, National e-Governance Division, MeitY, Abhishek Singh apprised the audience at the venue "The Digital India Mobile Van is one of the best ways to communicate to the masses about the G20 DEWG and Digital India. Instead of reading about a service, people can simply scan a QR code and experience myriad Digital India services and know about them."
A virtual reality setup will provide visitors a terrific chance to travel virtually to a village via a car simulator and experience various AI applications during their journey. Visitors will be able to experience, first-hand, how Digital India has transformed the lives of individuals in rural areas, providing them with access to cutting-edge technology that was once deemed unattainable.
An interactive quiz on two screens placed in the van exterior will entertain and educate citizens, allowing them to test their knowledge of Digital India and G20 DEWG.
The Digital India Mobile Van represents innovation and technological advancement, providing citizens with a unique and engaging experience that showcases the nation's digital transformation journey. MeitY is offering this one-of-a-kind opportunity to the citizens of India to relive the Digital India journey.
The van was sent off from New Delhi to Lucknow where it will be launched by the Chief Minister, Uttar Pradesh, Yogi Adityanath, for the van's first tour in the city of Lucknow, from February 03 – 16, 2023.