Industry leader Rakesh Kumar on impact, challenges and recovery of Exhibition, Handicrafts sector post Covid-19
Greater Noida, 29th June (Monday), 2020: In a special interview on Ten News Live, Rakesh Kumar, Chairman – India Expo Mart and Director General – Export Promotion Council for Handicrafts talked about the overall impact of Covid-19 on exhibition industry and handicrafts sector, the challenges faced by the industry in the near future, the digitization of the industry, the support by the government to the industry and the road to not just a routine recovery, but a recovery that will place India as the hub of sourcing in the entire world.
The interview was conducted by Ram Jalan, Digital Marketing and Technology consultant and Additional Director – Ten News.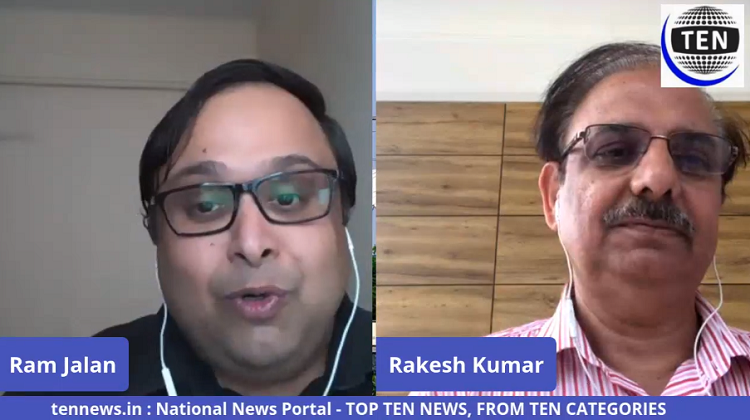 Below is an excerpt of the interview:
Ram Jalan: Exhibition industry is worth Rs. 23,000 crores, generates Rs 3 Lakh crore worth of transaction, employs more than 2 lakh people. What is the fate of exhibition business from here?
Rakesh Kumar: The Covid-19 pandemic has severely affected lots of sector and there is little hope for these sectors in the nearby future.
Exhibition sector / trade fair is one of the most important sector in any economy because it works as the multiplier of the economic growth.
Exhibition sector is well-developed in countries like Germany and Japan. In every city of Germany, you will find one exhibition centre which provides employment in areas like hospitality, tourism, logistics, exhibition suppliers, contractors, consultants and businesses participating as exhibitors in the exhibitions.
Germany is known as a gateway of business in europe because of its huge exhibition sector.
In India, the beginning of exhibition sector was humble because there was only one exhibition centre in Pragati Maidan and for a long time there were no exhibition centre, but now many centres have been established including India Expo Mart in Greater Noida in the past few years.
The entire exhibition sector has been affected due to the Covid-19 and has come to a complete halt, so now the sector requires a complete overhaul in the near future.
Ram Jalan: Same day in 2022 how do you see the situation? How much better than today?
Rakesh Kumar: We can divide the exhibition sector into two segments. First is the domestic exhibition segment where there is a hope that things can get back to normal even by June, 2021.
The second segment of exhibition is international exhibition segment where participants, buyers are from the overseas, so it is expected that in this segment the recovery may prolong.
However the exhibition centres won't be able to survive for 2 years without getting business, that's why 2022 should not be targeted, all of us have to target 9-12 months from now for recovery of the industry.
Ram Jalan: How the role of Export Promotion Council For Handicrafts (EPCH) has changed over the year? And how does it change from here?
Rakesh Kumar: The major concern of any Export related council is about organizing trade fairs, match making program and so on, but we at EPCH are way beyond that. We work on backward integration with forward linkage, which is essential for the survival in this industry.
On the producer level, we are providing them what is going to sell post covid, we are assisting them with design development, design production, product development and so on.
Covid safety compliance at factory level and unit level is also being taken care of, so that we work in such a way that it doesn't affect our production schedules.
On the exhibition level, we are offering double exhibition space to the exhibition companies on the same price that we were charging earlier, so that they can have better covid compliance and social distancing can be maintained. This offer has been welcomed by the exhibition companies.
Ram Jalan: How do you see the digital future of exhibition? The virtual exhibition and digital combination? Do you see Indian exporters and International buyers adjusting to the new norm or wait for the normalcy to resume?
Rakesh Kumar: We have been the first movers in terms of digitization of the industry, we recently organized the first virtual show – Indian fashion, Jewellery and Accessories show. It was very difficult task in terms of preparation, and managing concerns of exhibitors regarding IPR theft. Still it was a very successful show and now we are going to organize IHGF online which was supposed to be held in April. 1,500 exhibitors will be displaying their products virtually in this show. Excellent responses have been received from the overseas buyers for IHGF.
The morale amongst the exhibitors is now high, they feel that this is the new normal, and this is the need. One exhibitor said that the online exhibitions must continue even after the physical shows start again.
Ram Jalan: Home Furnishing, Lifestyle, Fashion, Jewellery which sector do you see the pent-up demand first?
Rakesh Kumar: The segments in the handicrafts sector like home furnishing, lifestyle, jewellery, fashion come into picture only when the immediate needs of people like food, clothes, shelter are fulfilled.
Currently there is a huge job loss in the market, so people will go for their immediate needs only, but as soon as the situation becomes normal, people will start getting news jobs and once they get jobs, they will go out to buy new products in the segments of handicrafts sectors. My prediction is that the next diwali is going to be a bumper diwali for atleast the home segment.
For international segment, coming christmas is going to be very good.
Ram Jalan: In handicrafts exports, India's contribution is under 5% whereas China is at 30%. Taiwan, Korea, Philippines, Indonesia and Thailand are leaders. What changes do you see for India due to recent development?
Rakesh Kumar: The huge contribution of China in world trade of handicrafts is misleading because China projects all mass merchandising products as handicraft products. All these mass merchandising products are not exactly the handicrafts products as they are produced using machines.
China and all other countries are not our competitors in all the segments as every country has their own unique capabilities
There are some categories, we are underplaying our strength like furniture. Recently PM Modi declared furniture as a core sector, so we have a lot of scope in this segment.
Another key issue is that we need technology application / upgradation in some of the products that we are selling.
For example, if Korea sells a holloware product like any kind of showpiece animal, the product will weigh only 5kg, the same product in India will weigh 20kg due to additional 15kg of raw material. The unnecessary weigh makes the product uncompetitive for logistics purposes
I'm hopeful that 'funds of the fund' scheme for MSMEs and the new initiatives by government are going to help the entrepreneurs in upgrading their technology.
Ram Jalan: What are the stimulus for Handicraft export you are aiming at from the government?
Rakesh Kumar: We have made requests to both the central govt as well as to the state governments where the handicrafts sector is well established.
The first big issue is that the finance given to manufacturers in our competitor countries is at the rate of 1 to 2 percent, whereas here it is around 12 percent, though with the interest equalisation scheme we are able to get 5% subsidy, but still it is not sufficient. If cost of finance is expensive then we cannot have a level playing field with our competitors.
The second issue is related to the export risk, since many overseas companies are going bankrupt, we have given a memorandum to the centre and to the Export Credit Guarantee Corporation (which offers protection against the non-payment by an importer) to provide insurance from the day the manufacturing starts, because many a times a business fails during the time period of giving the order and taking delivery of the order. In this case, the manufacturer faces loss as it was in the process of producing the orders.
At the state level, we are looking for immediate refund of GST.
Ram Jalan: Any recommendation on the MEIS rates/MDA schemes for the handicraft sector. Any special trade agreement with partner countries to curb losses​
Rakesh Kumar: MEIS has been extended, the rate we were expecting has been given.
During the coming virtual show, we will be organizing a seminar – "Sourcing India – the awakening tiger" because we wish to place India as a sourcing hub.
Secondly, we are opening warehouses and setting up distribution channels in USA and Latin America because the buyers there want the products to be available in their own country as getting products from overseas country requires financial and time investment. If a buyer orders from overseas then he has to wait for production and shipping time which is considerable, so we have submitted proposal to the USA and countries in Europe and Latin America for opening of warehouses and setting up of distribution channels in their country.
Towards the end of the interview, Rakesh Kumar hinted that the India Expo Mart is working on a big project which will enable the permanent manufacturers showroom at India Expo Mart, whose products are otherwise not available in India, to sell their product in Indian market.