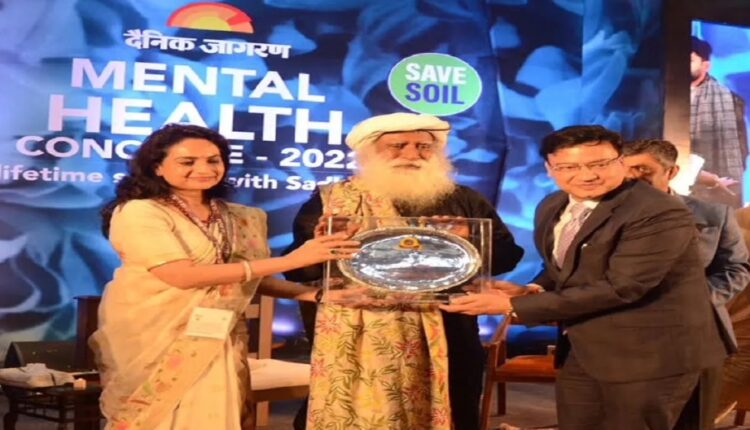 Inner engineering imperative for a meaningful life, says Sadhguru in Greater Noida
TEN NEWS NETWORK
Greater Noida, 2nd Dec: Speaking at the Dainik Jagran Mental Health Conclave held on 2nd Dec in Greater Noida, Sadhguru Jaggi Vasudev stated that our body is the most complicated chemical creation on the planet, and if you learn to simplify it, you will experience joy from within your body, in front of which the world I take great delight in taunting everyone who encounters me with booze, drugs, and so on.

"If you are a knowledgeable person, you would attempt to achieve happiness from inside, however if you are a fool, you will utilise bad substances that have damaged many lives. You will also be putting your life in danger in this manner," said Sadhguru at a special session at GL Bajaj Institute in Greater Noida.
"It has to be seen whether what you are doing for your pleasure is affecting you and whether it is permanent. Using drugs doesn't bring lasting joy, but I've found a way, I keep my body and mind in order, that gives me lasting joy. It doesn't matter to me whether I have or don't have. I always find myself in bliss."
"You all know that engineering is about making sure that what we did well at one point in time remains permanent. We have done a lot of engineering in the world outside us in the last 100 years, due to which we have become very comfortable, but in spite of this we have not become very happy and most loving, but many of us have mental problems. Health is getting worse."
Sadhguru said that all animals are 90 percent alike, with only 10 percent variation, while humans are 10 percent the same and 90 percent different. Animals have not got the ability to choose how they become, whereas human beings have the power to choose how they become in this 90 percent.
"It is up to the people that what kind of life they can live and get happiness. People talk about hell in great detail, like they made it themselves, but the fact is you're in heaven, but you've messed it up. If you look at something from a distance, then you can see it properly, in the same way, do not carry your problems with you, but if you keep a little distance, then you will be able to understand them properly and find a better solution. . You also have to understand that the world is never according to you. You cannot change anyone in the world according to you, but you can definitely make yourself as you want."