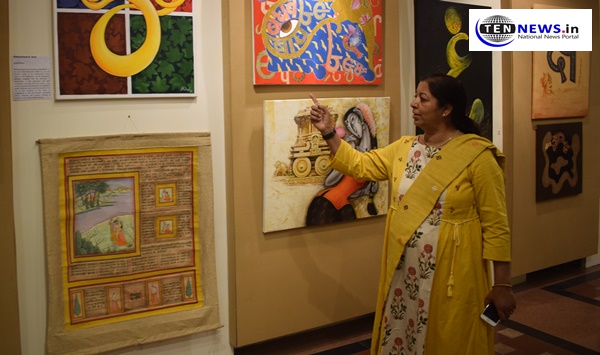 New Delhi: (20/04/2019) An international Art Exhibition "Celebrating Indian Languages- the learning curve" was organised at Indira Gandhi Centre for Arts New Delhi amidst a huge gathering of artists, art lovers and connoisseurs of art.
The exhibition purporting to create awareness of rich diversity of Indian languages across the world. It has been curated by a senior IAS officer Kiran Soni Gupta who herself is an accomplished artist and presently Financial Adviser in the Ministry of Electronics & Information Technology and Ministry of Youth Affairs & Sports.
In the Exhibition there are more than hundred participants from all parts of India and abroad who have showcased their work. There are artists from US, UK, Brazil, Austria, Turkey, Germany and Croatia. The Exhibition was inaugurated by Jaya Jaitley on 8th April.
Speaking to Ten News about the Exhibition, Kiran Soni Gupta said,
"The most distinctive quality of human beings is their ability to express and communicate. Over the years they have developed a system to communicate through words and thus the existence of many languages. Each language is an integral part of civilization and has evolved its own vocabulary and grammar."
She further said, "The linguistic diversity of India is reflected from the fact that we have more that 750 languages making it as a distinctive language hub in the world. India is a diverse country with many languages and dialects. There are four major language families namely Dravidian, Indo Aryan, Austro- Asiatic and Tibeto Burman. In addition there is also another group like Buruhaski of North Pakistan, Kusunda of Central Nepal, Nahali of central India, Vedda of Srilanka and Negroid languages of Andaman islands. However 22 languages have been declared as scheduled languages in India."