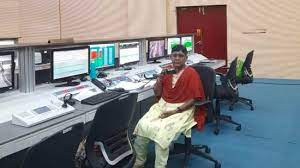 ISRO Scientist Behind Rocket Countdown Announcements N Valarmathi, Passes Away

TEN NEWS NETWORK
New Delhi, Sep 04, 2023: India's space exploration community mourns the loss of N Valarmathi, the iconic voice behind rocket countdown launches, who tragically passed away on Saturday. Her distinctive voice resonated during the historic Chandrayaan-3 mission launch, etching her name in the annals of Indian space achievements.
Former ISRO Director Dr. P V Venkitakrishnan expressed his condolences on social media, saying, "The voice of Valarmathi Madam will not be there for the countdowns of future missions of ISRO from Sriharikotta. Chandrayaan 3 was her final countdown announcement. An unexpected demise. Feel so sad. Pranams!"
Reports indicate that Valarmathi suffered a heart attack and passed away in Chennai on Saturday evening.
Born on July 31, 1959, in Ariyalur, Tamil Nadu, Valarmathi pursued her education at Nirmala Girls Higher Secondary School before earning her engineering degree from the Government College of Technology in Coimbatore.
Her illustrious career at ISRO began in 1984, where she played pivotal roles in numerous missions. Notably, she served as the project director of RISAT-1, India's first indigenous Radar Imaging Satellite, and the country's second satellite of its kind.
In 2015, Valarmathi became the inaugural recipient of the Abdul Kalam Award, a prestigious honor instituted by the Government of Tamil Nadu in tribute to former President Dr. Abdul Kalam.
Condolences and tributes are pouring in on social media, with many expressing their grief and admiration for her contributions to India's space endeavors. One user aptly noted, "Her voice embarked the beginning of the remarkable historic journey for the country. She will be remembered always in the iconic moment of Indian space accomplishments. May her soul rest in peace, and God give strength to her family."