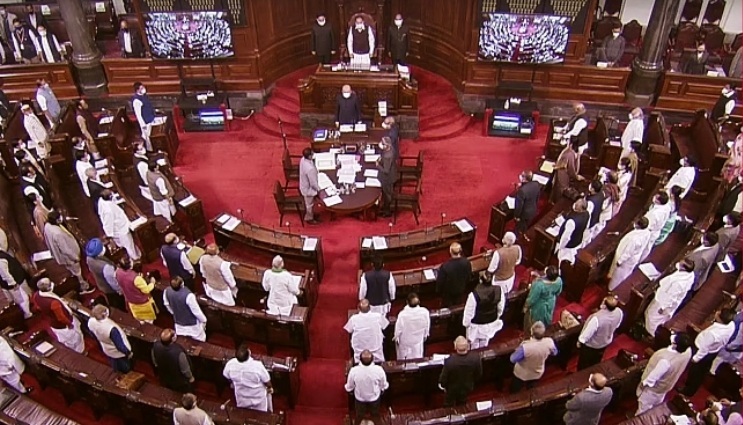 New Delhi, 10th August 2022: The National Democratic Alliance, or NDA, has endured some numerical loss in the Rajya Sabha as a result of Nitish Kumar's Janata Dal (United) severing ties with the BJP in Bihar.
Deputy Chairperson Harivansh is one of five MPs from Kumar's Janata Dal (United), or JD(U), in the Rajya Sabha.
Even with the JD(U) as a member, the NDA did not hold a majority in the upper house. JD(U) the third organisation to depart NDA in the past three years. Prior to thisShiv Sena and Shiromani Akal Dal had too walked out of alliance with Shiv Sena. Before 2019 general elections, Telugu Desam Party, or TDP, departed.
As a result of JD(U) leaving NDA, the BJP-led national coalition will be more dependent on other regional parties as Biju Janata Dal (BJD) of Odisha and YSR Congress Party (YSRCP) of Andhra Pradesh, to get important legislation passed through the upper house.
The Rajya Sabha has 237 members as of now. There are eight openings, including three that need to be nominated and four from Jammu & Kashmir. The median score is 119.
The NDA's strength in Rajya Sabha was 114, which includes five nominated MPs and one independent. After the JD(U) left the scene, the NDA's number has been reduced to 109, or 10 short of the majority mark.
The BJP looks confident to win the Tripura elections and the government has the option of nominating three more MPs before the winter session. Even then, the NDA will only have a strength of 113, falling shy of the new halfway point of 121.
On important measures, the BJP will require the backing of the BJD and YSRCP, which each have nine MPs.
However, Mayawati's Bahujan Samaj Party, the YSRC, the TDP, the Shiromani Akal Dal, and the BJD supported the BJP in the most recent presidential and vice presidential elections.