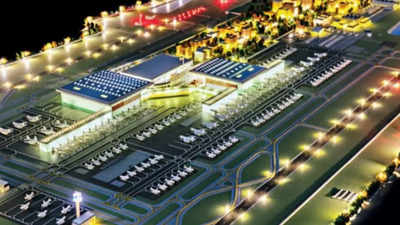 Jewar Airport Inauguration: In BJP's show of strength local leaders pushed to back rows
Ten News Network
Jewar: Noida International Airport inauguration event turned out to be a show of strength for Bharatiya Janata Party as leaders from all across the state made a beeline for the small town in Western UP, to mark their attendance for the event.
However, what astonished many from the region was the fact how the domestic leadership was duly pushed to the background during the show. Only Noida MP Dr Mahesh Sharma found a place in the front row, which had over a dozen dignitaries sharing space with the Prime Minister.
As Prime Minister Narendra Modi arrived at the airport site, he inspected the model of the upcoming airport and witnessed a presentation in the presence of UP CM Yogi Adityanath and Aviation minister JM Scindia.
As he arrived on the stage, he greeted all the present leaders – over fifteen of them – with a namaste and took his seat. Present of the dias were BJP leaders and lawmakers Sanjeev Balyan, Professor SP Singh Baghel, Nand Prasad Gupta, Dr Mahesh Sharma, Keshav Prasad Maurya, Pt Shreekant Sharma, Jai Pratap Singh, Laxmikant Bajpai, Dr Bhola Singh, Surendra Nagar, Dharamveer Prajapati, among others.
Jewar MLA Dhirendra Singh strategically took a seat right behind Prime Minister Narendra Modi. However, he found a place in the third row on the stage, with PM's security occupying row 2 and PM Modi, CM Yogi and Deputy CM Keshwav Prasad Maurya sitting in the first row.
Dadri MLA Tejpal Singh Nagar was also seen sitting on the stage in the third row.
Also, while addressing the crowd neither Aviation minister Scindia did not mention any local MLAs. However, saving grace was CM Yogi who named Jewar MLA Dhirendra Singh, but did not mention Tejpal Nagar or Pankaj Singh.
Notably, mention of Dhirendra Singh was greeted with a cheer from the attending crowd.