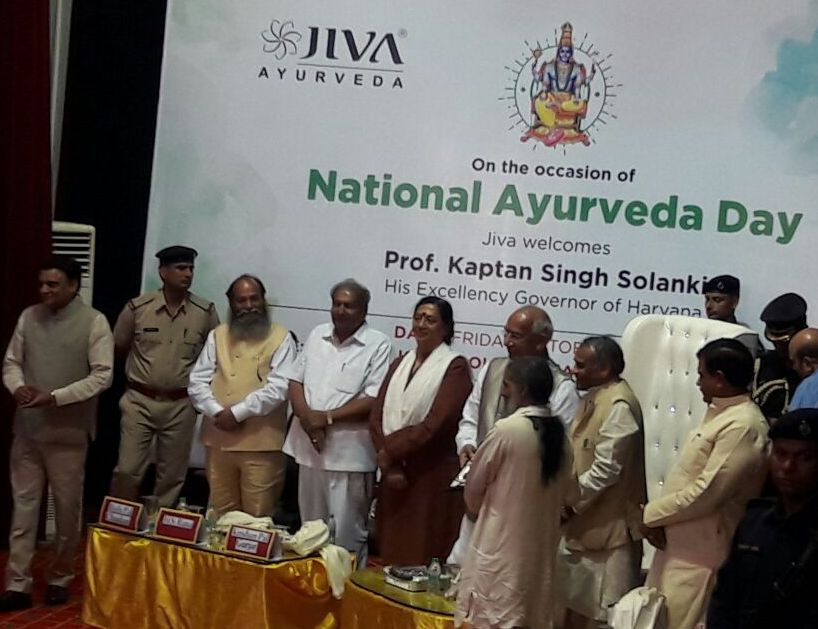 Jiva Ayurveda hosts an exclusive event to celebrate 'National Ayurveda Day'
A special Feature by Bipin Sharma
Jiva Ayurveda hosted an exclusive event at Jiva Public School, Faridabad on 28th October'2106 to celebrate country's 1st 'National Ayurveda Day'. Organized to spread general awareness about Ayurveda and its myriad benefits, the event was graced by the presence of the Chief Guest, Governor of Haryana Kaptan Singh Solanki. The other distinguished dignitaries included Krishan Pal Gurjar (MoS-Ministry of Social Justice and Empowerment), Vipul Goel (Minister of Industries, Commerce and Environment, Government of Haryana), Seema Trikha (Chief Parliamentary Secretary, Government of Haryana), Moolchand Sharma and Tek Chand Sharma. One of the key objectives behind organizing the mega event was also to applaud the Government of India's remarkable initiative in commemorating 'Dhanvantri Divas' as the 'National Ayurveda Day' which had paved the way for a new era of Ayurveda in the country. Another aim was to honour and felicitate the outstanding visionaries for their lifetime dedication and excellence in this field.
Lauding the pioneering initiatives of Jiva Ayurveda, Governor of Haryana Kaptan Singh Solanki congratulated the Jiva family for their painstaking efforts in all their years of existence. He reiterated the long term benefits of Ayurveda in general, and how leading a healthy lifestyle had become extremely relevant in the modern times.
Dr. Partap Chauhan, founder and director Jiva Ayurveda in his address to a large gathering of guests and special invitees from all over the globe highlighted the accomplishments of Jiva Ayurveda and stated his group's mission of taking Ayurveda to every home. Jiva Ayurveda offers online, telephonic and personal consultation to patients across the world. Dr Partap is an award-winning Ayurveda doctor, author, speaker, and popular TV personality who has been feted at numerous national and international forums for his remarkable contribution in the field of Ayurveda by distinguished personalities. He is the pioneer of online Ayurvedic medicine who started the world's first online Ayurvedic clinic, Ayurvedic.org, in the year 1995. Chauhan is the winner of UN's World Summit Award for his Teledoc project on rural medicine. His TV shows, Eternal Health, Sanjeevani and Jivananda, are broadcast on a number of channels including Zee Jagran, News 24, Care World TV and P7 News.
In an exclusive chat with tennews.in, Dr Partap Chauhan, Director Jiva Ayurveda shared, "The passionate team of Jiva Ayurveda has been diligently working in transforming the lives of people. At Jiva, we aspire to make them happy and healthy through authentic Ayurvedic treatment delivered at their doorstep. At Jiva, we have revived traditional Indian knowledge and integrated it in the modern society. We have always staunchly believed that the timeless wisdom of the Vedas and Ayurveda possesses colossal potential for solving and overcoming the world's greatest challenges with the condition that it could be adapted precisely to the present day context. Scientific analysis and results have shown how authentic Ayurveda treatment offers a great solution to ailments and disorders like diabetes, arthritis, asthma, obesity, hypertension, spondylitis, piles, skin problems, sexual disorders, etc. Ironically, the modern medicine does not offer an effective solution and treatment to most of these diseases affecting the global community in the 21st century. We take pride to talk about the 'Jiva TeleMedicine Centre' which happens to be unique and one of its kind concept in the world that works as an integrated center for health consultation over the telephone. Jiva today has more than 400 Ayurvedic doctors and support professionals who have provided consultations to over one million patients till date spanning myriad cities and towns in India. To ensure quality, efficacy and purity, Jiva Ayurveda manufactures its own medicines and products at its ISO 9001:2008 certified manufacturing unit and pharmacy in Faridabad, India."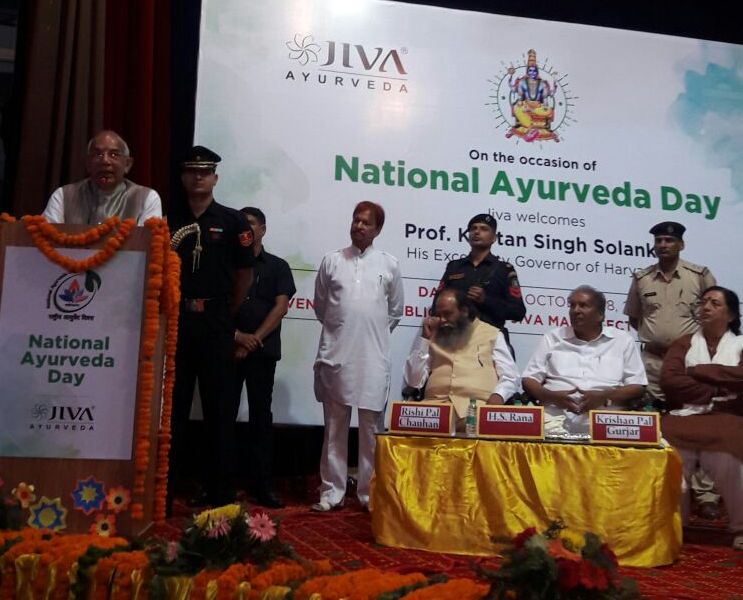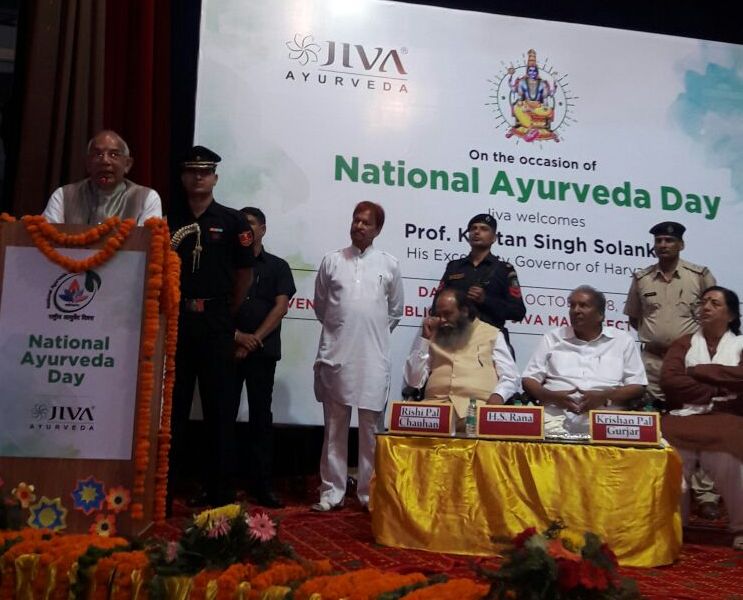 Enumerating the achievements and the long journey of his group, Managing Director of Jiva Ayurveda, Rishi Pal Chauhan said, "Jiva has carved a niche for itself as it has been diligently promoting the cause of holistic wellness through Ayurveda. While there has been a marked rise in the number of people endorsing Ayurveda from overseas, 'back home' we still have a long way to go. What sets Ayurveda apart from other treatments is primarily the fact that it goes to the root cause, and helps in eradicating the ailment once and for all. Ayurveda caters to mind, body and soul which eventually leads to holistic wellness of an individual. At Jiva, we have been regularly organizing Ayurvedic educational and training programs for over a decade now. More than 10,000 persons varying from experienced Ayurveda practitioners to Ayurveda enthusiasts have been trained in the finer nuances of Ayurveda. We have conducted numerous workshops and training programs worldwide. Jiva's Ayurvedic Clinics and Panchakarma Centers, the modern centres of wellness hold the key to the future of Ayurveda, as they offer personalized consultations. These wellness centres are adequately equipped for providing a wide range of Ayurvedic treatments for helping people stay healthy and by offering them a permanent and effective cure against diseases. Our main center based located at Faridabad has residential facilities for patients desiring to stay with us during the course of their treatment. Besides, we also provide outpatient services through our clinics that are strategically located across Northern India. Through our comprehensive interactions with Ayurveda practitioners from across the globe coupled with our profound knowledge of the Ayurveda science, we have gained a vivid understanding of what students look for in an Ayurveda course. Our experienced and seasoned team spearheaded by Dr Partap Chauhan have formulated customized programs for foreign students and aspirants. Dr Partap has trained a group of doctors at Jiva who are now conducting these courses, and spreading the word around the ancient science of Ayurveda. Dr. Partap has played a sterling role in popularizing Ayurveda across the globe since 1992, having given consultations and conducted numerous workshops and lectures in more than 50 countries."
Governor of Haryana Kaptan Singh Solanki also felicitated noted social crusader and Gau Sewak Dr Naresh Kumar Sharma for his remarkable contribution as a social crusader and an activist. In a brief conversation, Dr Naresh Kumar Sharma said, "Holy Cows are our universal benefactors who have been playing a key role in the economic prosperity of the nation since time immemorial. We need to incorporate innovative ways of giving encouragement to new research methodologies for protection of cows, and for enhancing the overall productivity. More private institutes such as the National Dairy Research Institute (N.D.R.I), Karnal need to be launched in the country. The benefits of Cow Milk are countless, and right awareness in this context can do wonders for humanity. It aches to see the ill treatment meted out to cows in different nooks and corners of the country. Coming to the issue of Ayurveda, I am fully optimistic that the day is not far when 'World Ayurveda Day' would be celebrated every year akin to myriad other momentous occasions. Jiva Ayurveda has played a pivotal role in transforming the lives of countless people all over the globe. The hallmark of their organization has been meticulous and elaborate scientific analysis. I commend the path breaking initiatives of the visionary Dr Partap Chauhan who initiated the world's first Ayurvedic telemedicine center which provides free health consultations through phone. Dr. Chauhan established the Jiva Ayurveda Clinics in several Indian cities as well as in Europe, which treat thousands of patients every year from all over the world." The guests had a special word of appreciation for the Jiva Public School, the venue of the event. The school has been operating all these years without any bell, and the students follow the 'Jivananda' lifestyle regimen- An Ayurvedic way of life which includes simple routines and practices to instill long lasting happiness into the lives that adopt them. Snacks and refreshments were served after the culmination of the event.
A crowning moment really for Ayurveda and the country as the first ever 'National Ayurveda Day' was celebrated with all zest and fanfare.