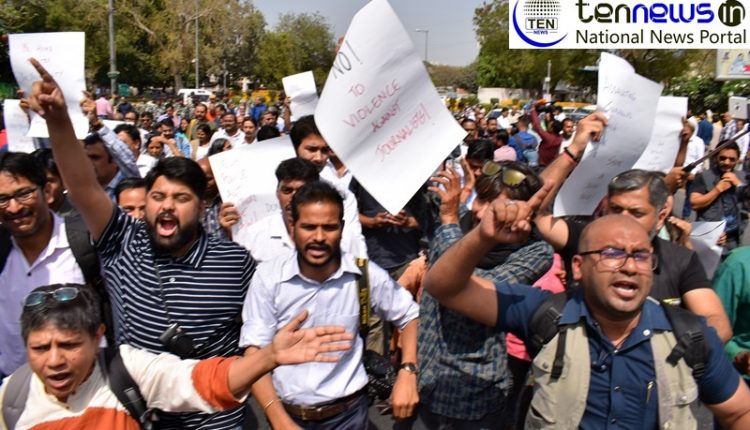 New Delhi: Journalists and photojournalists' association have waged a war with Delhi police in alleged mediaperson assault and manhandling case that happened during JNU protest.
Scores of mediapersons gathered at the Press Club of India on Monday afternoon and raised slogans against the Delhi police, 'Delhi Police Murdabad', 'Journalist Pe hamla band karo' and so on for not registering FIR against the senior Delhi police officials who were involved in alleged assault and manhandling case with mediaperson held during JNU Students' protest march on March 23, 2018.

Earlier, a delegation of journalist associations met with Home Minister Rajnath Singh and demanded to register FIR against the officers involved in the assault of photojournalist of Hindustan Time and a journalist of Indian Express.
Hundreds of journalist marched towards the parliament to register their 
disappointment over the issue.

Later, well-know TV journalist, Ravish Kumar also participated in the protest.
A day after the incident, mediapersons protested at Delhi Police headquarter and demanded action, however, the following an enquiry police suspended a male and female constable.
On March 23, during JNU Students' long march two mediaperons were allegedly molested by the police while they were covering the march and also snatched camera of a photojournalist. 
While talking to Ten News, a senior journalists Raj Laxmi said," It is shameful that Delhi police is not registering FIR in assault and molestation case despite protest, we are requesting Home Minister to file an FIR, it is shameful."
"Today, we are protesting at Parliament Street and we will continue our fight till the offender gets suspended." She added.