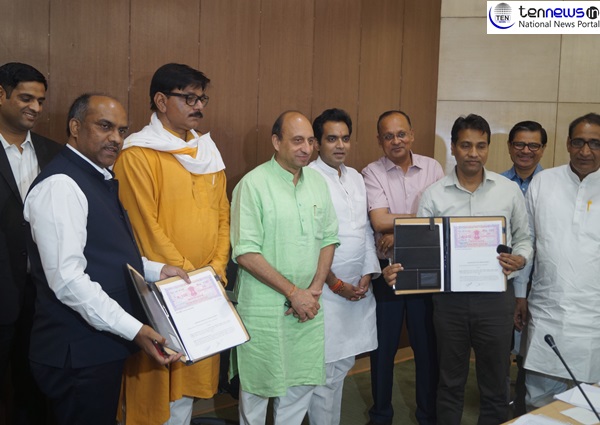 Jubilant Bharat Foundation comes with a innovative app to Improve primary education in Greater Noida!
Saurabh Kumar
Greater Noida : Today the district administration signed a mou with Jubilant Bharat Foundation, Gautam Budh University, Greater Noida to bring  quality enhancement in the primary education sector. The Excise minister of the state and minister in-charge of district Jai Pratap Singh remained present along with all three MLA's of the district and District Magistrate.
Before signing the mou  member of jubilant foundation detailed about the app through a power point presentation which they had developed for the students that will accumulate all the data related to schools which can be monitored by the appointed officer of administration.
The prime objective of this project is the digitalization of the school education system, improve the efficiency of school administration and e-governance in the school, decision making on real time and better quality data.
This project will be firstly initiated as a pilot project in the Bishrak block as the ratio of students is highest in the block in comparison of others After its success it will be implemented to the rest of district.
This app will help in tracking the teachers whether they are present in schools or not by the help of GPS navigation technology. It also have  data of number of students enrolled in school, their attendance, performance, activities that were conducted in school. It will inform parents about parent's teachers meeting by automatically dropping a message to them.
In initial stage of the project all most every expenses will be bared by the Jubilant Bharat Foundation its self told DM, BN Singh Sharing his views over the mou Jai Pratap Singh said "I found the presentation very impressive and if we will be able to implement it on ground basis it will be great for boom for our education system and will enhance the quality.