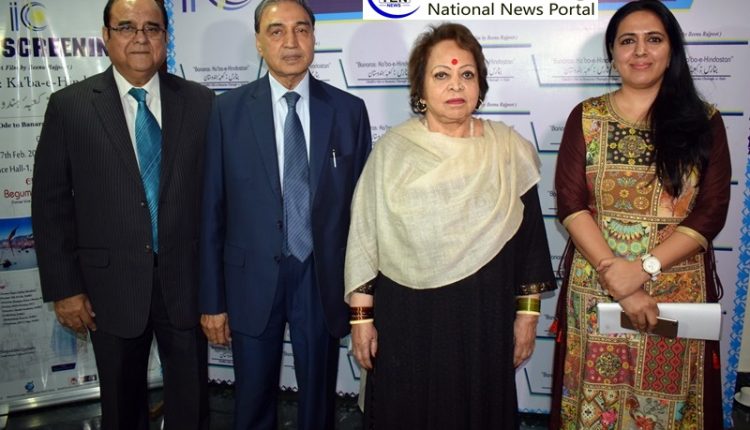 New Deihi: Mirza Ghalib is One of the priceless nuns of our country, a lot has been written about him, through Which many poéts have tried to understand his life very closely and interestingly everyone has Find different side of his perspective. He was someone whose thinking and vision towards the life was Very different and that one can find in a common man lifestyle. His philosophical thinking has made many people fail for his work and wisdom, The words of Ghalib have an impact in her small world through which she has tried to know Ghalib more closely.
A talented director from Delhi, Beenu Rajput has created a 30 minute Ka'ba-e-Hindostan with an aim showing banaras through Ghalib's vision. On Saturday in Capital to showcase the Great Work, Beenu Hosted a special Screening of The Movie Banaras:Ka'ba-e-Hindostan Ghalib's Ode to Banaras: Charagh-e-dair. The Premier was graced by the Presence of Salma Ansari (Former Vice President Hamid Ansari Wife).
Talking Exclusively to Ten News About the Movie, Talented Director Beenu Said, Ka'ba-e-Hindostan is based upon the journey of Mirza Ghalib to Banaras while he was on his way from Delhi to calculate to petition with the British for resumption of his royal pension. The film is based upon his Persian Masnavib of "Charagh-e-Dair" in which he openly declared his love and Respect towards banaras- the holi city of hindus. He was so impressed with Banaras culture where he call it Ka'ba of hindostan in his masnavi "Charagh-e-Dair".
We are showing very beautiful banaras through the eyes Ghalib.
About BEENU RAJPUT – The Filmmaker:
Born and brought up in Punjab, Beenu Rajpoot, Multitalented personality, An Intelligent film maker, Fashion designer, Pictorial Photographer, Philosophical thinker, written two books on Photography, write journal for several institutes, a creative fashion designer and postgraduate in philosophy. In the year 1999, she came to Delhi for further studies in Film making and Fashion. After finished her further diplomas she settled down in Delhi.
Films have been her passion from childhood. She used to watch "Lekhu" and "Udaan" regularly and try to find out the techniques of making of serial like excited kid. She belongs to small town of Punjab, where Film making and Fashion designing was not very familiar carrier to adopt. Moreover it was very hard to understand by the family and as well as by the society at that time of span. But she finished her Masters first in philosophy from Punjab University, then went further for Film and fashion studies to Delhi.