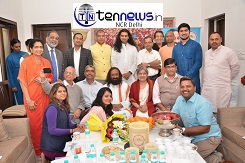 #Kaivalyadhama Yoga Institute aggressively engages in spreading #Yoga awareness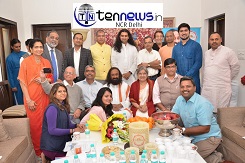 Kaivalyadhama Yoga Institute aggressively engages in spreading
Yoga awareness
Ø  Meeting of the Quality Council of India, Advisory Board
Ø  Kaivalyadhama Yoga Institute CEO Meets the Railway Minister
     New Delhi, 17th Feb. 2016: The Ministry of AYUSH is making an effort to get quality in training in the field of Yoga. In an effort in this direction it has entrusted Quality Council of India with the responsibility to have certification program for various courses offered. The Technical Committee of this, Chaired by Dr.H.R.Nagendra met recently in Delhi to discuss various issues. Institutes from all over India were represented. Shri.Subodh Tiwari CEO, Kaivalyadhama Yoga Institute. The draft of the level 1 course called Yoga Instructor was unanimously finalized. This would mean that a person who has completed a course from any institute, can go and take this exam and will get certified as level 1 Yoga Instructor. Level 2 Yoga Teacher is also ready. This will ensure that the qualitative aspect in the training program is taken care of.
The Advisory Board then met under the Chairmanship of Sri. Sri. Ravi Shankarji. There also various institutes of Yoga were represented. This meeting was held at the residence of Shri. Vinod Khanna, Member of Parliament. Important policies discussed in the meeting were (a) The purity of Yoga should be maintained and Patanjali Yoga Sutra should be considered as the core document in formation of any syllabus (b) When the Yoga therapy module will be considered, involvement of allopathic doctors who practice Yoga should also be done. This will rightfully blend the modern and the traditional approach. It was also discussed that efforts are to be made to conduct more scientific, evidence based study in the field of Yoga. Various schools of Yoga such as Kaivalyadhama, The Yoga Institute, Isha Foundation, Sivananda, MDNIY were represented in this meeting.
Speaking on the same, Mr. Subodh Tiwari,CEO Kaivalyadhama Yoga Institutesaid, "At Kaivalyadhama Yoga Institute our ultimate goal is to see yoga as an inherent part of every curriculum all over the world. We are very happy with the support ofboth the Government of India in our endeavor."
MEETING WITH THE RAILWAY MINISTER: Shri.Subodh Tiwari CEO of Kaivalyadhama met the Railway Minister Shri.Suresh Prabhu and gave two proposal. The first being training of executive staff of railways in creative and innovative thinking through Yoga. This was proposed in view of the fact that research has repeatedly shown major improvement in cognition and attentiveness in individuals who practice Yoga. In times when the pressure of work, progress is high, the human resource should be empowered with such unique training. This would be a focused training where Yoga Asana, meditation and management experts will train the officers in aspects of creative thinking and innovation.
The second proposal is specific module of Yoga for the railway engine drivers. In a research carried out at Kaivlayadhama with the railway engine drivers of the Mumbai Locals it was established that there was significant improvement in various parameters of the engine drivers those who practiced Yoga for a period of three months. Their reaction time improved, their anxiety and stress levels came down significantly. The Minister showed a very keen interest in these proposals and said that they will be positively considered. Mr.Pande the Executive Director of the Railways was asked to look in to the matter.