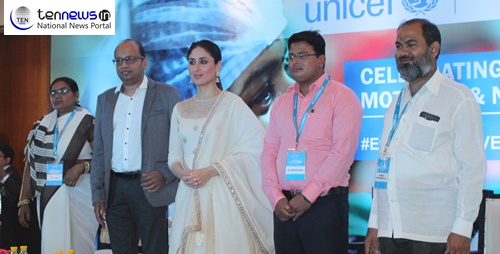 New Delhi: UNICEF India today organized a panel discussion to highlight the importance of celebrating mothers and their newborns. A doctor from Orissa, a front line ASHA worker from Uttar Pradesh, a father from West Bengal,
UNICEF India Deputy Representative, Henriette Ahrens, UNICEF officiating Chief at Health, Dr. Gagan Gupta and UNICEF Ceiebrity Advocate Kareena Kaooor Khan engaged in an hour-long discussion on the need for support all mothers and their newborns so that they survive and thrive.
The event was organized to mark Mother's Day in the backdrop of UNICEF's global #EveryChildALIVE campaign.
Speaking on the Occasion Dr. Hota from Malkangiri, Orissa shared his experiences of an arduous 10 km journey on foot to reach the nearest Primary Health Centre and save the life of a tribal mother and her newborn. Uma Devi, an ASHA worker from Uttar Pradesh shared how she convinced a mother and her famiiy to take their newborn to a specialized centre for newborns – the nearest Special Newborn Care Unit.
UNICEF Celebrity Advocate Kareena Kapoor Khan, said "When I was pregnant, access to quality healthcare and good doctors and nurses was a given. But this should not just be a privilege for some. Quality healthcare is something that needs to be assured for every mother and every baby, girl or boy, wherever they live. Every mother and every baby has the right to be supported by a safe pair of hands during pregnancy and the newborn period. I firmly believe There is nothing like a happy and healthy Mother."
Kapoor also highlighted the need for gender equity and quality, which she said are the next frontiers for newborn survival. "We need to look after our girls just as well as we look after our boys. As females ourselves, it is incredibly sad that baby girls do not always get the same care that baby boys do. If your baby girl becomes unwell, get help for them just as quickly as you would do for a boy," she said.