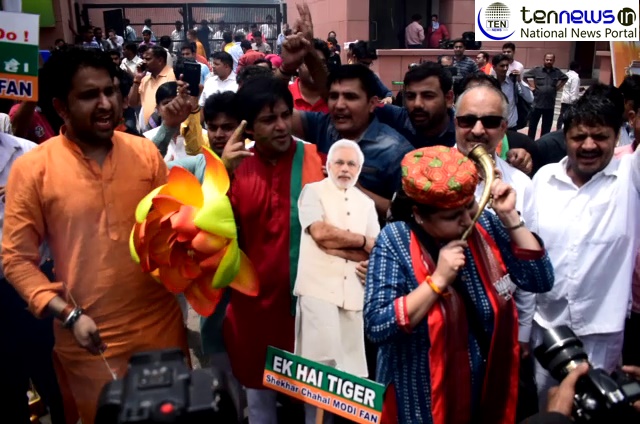 #KarnatakaVerdict : Political Storm from Delhi to Bangalore, Governor's call to decide fate
New Delhi:
After 14 years, similar situation has arisen in the Karnataka after a hung mandate. The speculation on who will form the government and who will be the Chief Minister remains unanswered. 

According to Election Commission of India, till 4 pm, BJP was leading on 104 seats, Congress with 77 and Janta Dal (Secular) with 37 seats are leading. However, the final magical figure to form the government is 112 and till now, no party has touched this figure. 
In that situation, alliance is the only option to form the government. Both political parties back channeling to lure JD(S) chief and former Prime Minister HD Dewa Gowda to find a middle path.
In 2004 assembly election in Karnataka due to hung mandate, Congress and JDS, jointly form the government, however, it last only for two years.
On one hand, Senior Congress leader Ashok Gahlot is meeting with JDS chief Dewa Gowda to lure him to form the government and if sources are to be believed Congress has also offered CM seat to the JDS, while BJP, which has shrunk to 107 after initial leading is also trying hard to touch the magical figure.
While addressing media, BJP CM candidate, BS Yaddurappa said that Congress back channeling to form the government in Karnataka while mandate of the state is with the BJP. He also said, governor has invited BJP to claim to form the government.
Hitting back to Congress spokesperson Jaiveer Shergill said during a debate that before pointing out to Congress, BJP should look after themselves who formed government in Goa, Meghalaya, Bihar though back channeling.
The final figure is yet to be relised by the ECI, meeting with Congress and JDS leaders is on and BJP and JDS are both trying to meet with Governor in next one hour. 
If the governor calls BJP first to try and form the government it will have 21 days to prove it's majority. That is enough time for many deals to be made, unmade and sealed.
The cloud of speculation which is hovering over Karnataka's fate will clear in upcoming hours, till then, just wait and watch.