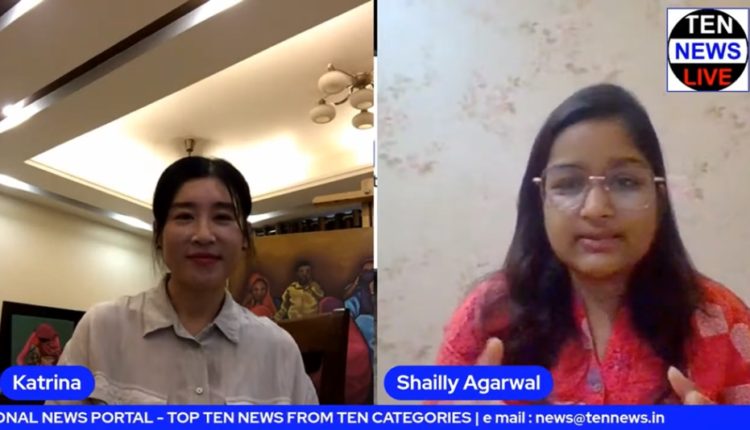 Katrina Junghwa Kim, a South Korean artist who loves to paint | Ten News Interview
Ten News Network
Greater Noida (25/06/2022): "Whenever you encounter a challenge, it's not a hardship, it is an opportunity coming to you," Katrina stated and her journey as a painter is the epitome of this quote. Katrina Junghwa Kim is a South Korean economist, researcher, traveler, and artist. She is a senior researcher and economist at Korean Embassy in India. On 24th June 2022, Katrina interacted with the Ten News Network anchor Shailly Agarwal on the Ten News Live platform to share her journey as an artist.
Once when she encountered a pickpocketing incident while traveling in South America, she was filled with anxiety and nervousness. That's when she turned to art and painting to seek an escape from this stress and in the process ended up unraveling a hidden talent within herself. "I think it is just what God had planned for me," Katrina said. She had no previous training in painting. "I remember the first time when I grabbed the brush, I cannot forget that time. I started (painting) and it was like magic," she narrated gleefully. "My teacher was very impressed and surprised, and then he just gave me tips on how to make it detailed."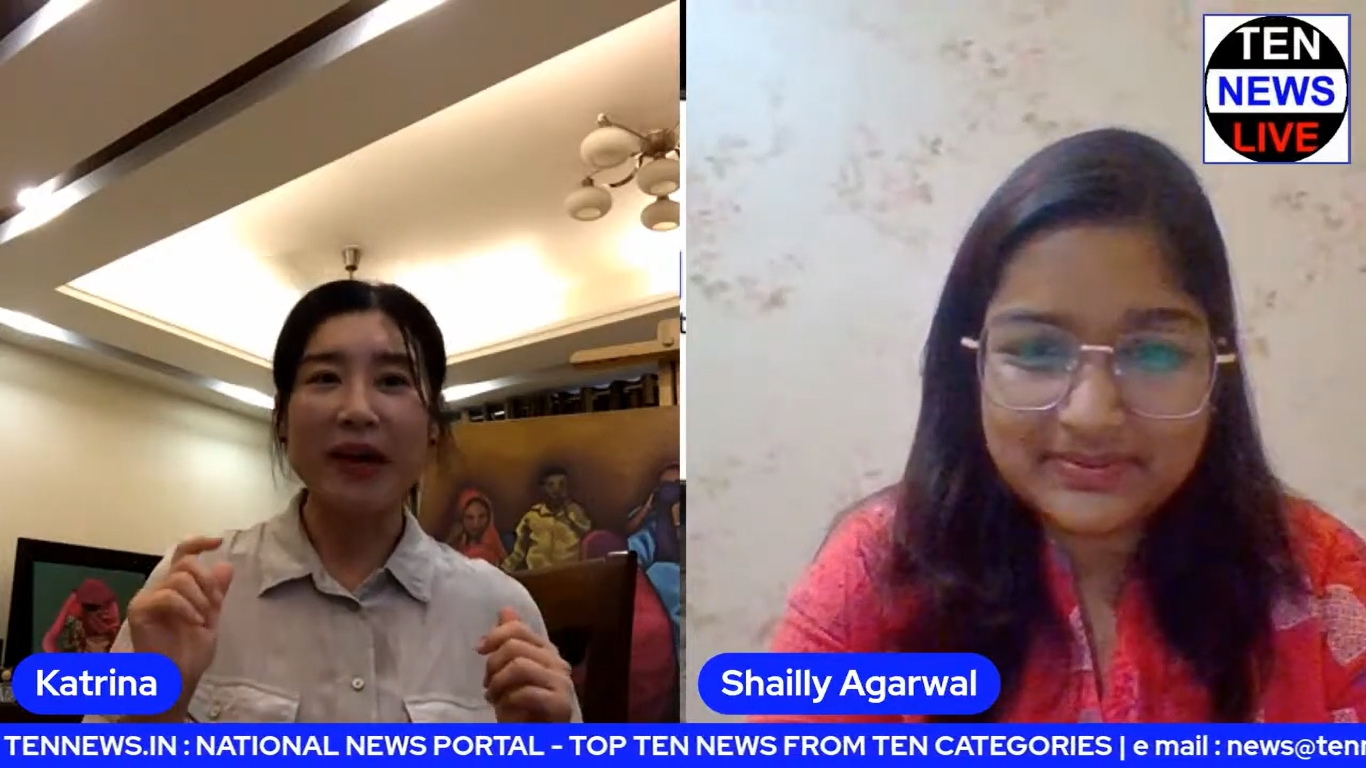 When Katrina moved to Brazil, she was tired of work and life, painting came to her like therapy. "Oil paint is like, you can paint it over and over," she said. "If you make a mistake, you can cover it up and then you paint it again, so you cannot see the mistake," she said. This made her believe that if you make a mistake in life, it can be corrected. This message was beneficial for her psyche.
Katrina has worked as an economic expert for over 10 years but she fell in love with the art of painting and made it a second career for herself. She would spend whole nights on her painting and it would make her feel better and at peace. "I like my job as a researcher," she said. "So, I am really satisfied with my career but I think being an artist is easier for me." she skillfully balances her career as an economist and her passion as an artist.
On Christmas eve of 2018, Katrina came to India. She was attracted to India because of its long history of art and the diversity of art. Her topic for painting is 'The Ordinary People in India'. "I travel a lot and my paintings are based on these trips. I travel to places like Jaipur, Jodhpur, Rishikesh – so many cities, and every city has a different color and different people. So paintings express the ordinary people, their life and their culture," she said. She was extremely fascinated with the diversity in the people and the various colors she saw in the people in India. "Every person has a different life. So, the paintings would have different people, different colors."
In 2019, just two years after starting her career as an artist, Katrina received an award. "It was a big achievement for me because I had just started to paint and 2 years later, I got awarded as an artist. It gave me some self-confidence," she said. That's when she started applying for art competitions in Korea. She has won accolades for her paintings in several South Korean competitions such as the Korean Women Art Competition and International Art Competition. She has also participated in group exhibitions in several cities like Brasilia, Brazil and New Delhi, India.
"I am still in the beginner stage as an artist and need time to build my skills and my talent," Katrina said. She dreams to have her gallery in either Korea or some other country. She leaves an encouraging message to the youngsters who dream to be artists and painters, "never give up on what you are trying to be because sometimes life as an artist is very challenging but you can have another job or another hobby. You can enjoy yourself and your life. Your dream will come true someday."
Katrina has an upcoming exhibition at Visual Art Gallery, India Habitat Center from July 1, 2022, to July 3, 2022. From July 26, 2022, to July 29, 2022, she has an upcoming exhibition in Poland, which will be her debut in the Polish market.
Art is definitely one of the most powerful tools mankind possesses. It has been a way of expression since the cave paintings of the early man. Art has the power to heal and transform lives. Katrina's journey as an artist proves that art and creativity have no bounds. She is truly an inspiration for all those who are still discovering and polishing the artists within themselves.