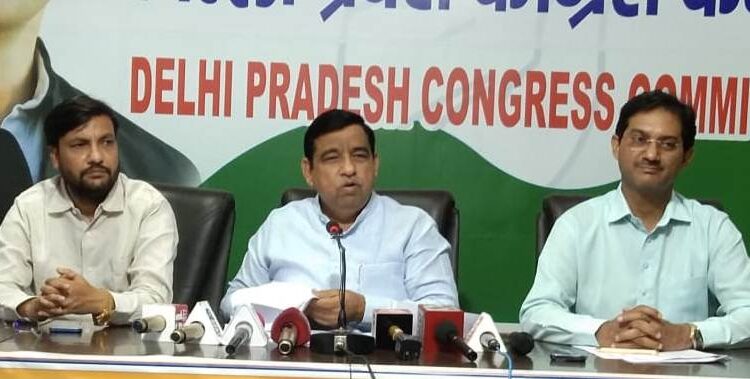 Kejriwal Government presents a "directionless" Budget : Delhi Congress
NEW DELHI, March 22, 2023—Chairman of the Delhi Pradesh Congress Committee Communications Department and ex-MLA Shri Anil Bhardwaj said that the Delhi Budget presented today was a directionless, "prasar-prachar" budget, which was "old wine in new bottle" without vision or policy direction. He said that the Budget offers no hope for the people of Delhi, except some empty promises, like in the previous budgets of the Kejriwal Government, though the budget outlay has almost trebled to Rs 78,800 crore for 2023-24 compared to the 2014-15 outlay. He said that every year, the Kejriwal Government comes up with fancy names for the budget, but those promises are never fulfilled, like last year's Rozgar Budget, which had promised 5 lakh jobs per year for five years, but only 1000 jobs were created last year. He demanded that the unemployed youth of Delhi should be given unemployment allowance which Kejriwal had been promising in other States. He said that it was a big joke that the budget has promised "zero tolerance" to corruption, though two key former Ministers–Manish Sisodia and Satyender Jain–are behind bars for corruption! He said that there was no concrete proposal in the budget on   how to address air pollution in the Capital, which has earned Delhi the notoriety of the 4th most polluted city in the world. He said that in short, the budget presented by Finance Minister Kailash Ghelot has broken all boundaries in telling lies.

Addressing a press conference at the DPCC office, Rajiv Bhawan, here today, Shri Bhardwaj said that Kejriwal misses no opportunity to boast about the "Delhi model of education and health care", but the allocation for health has been slashed from Rs 9769 crore last year to Rs 9742 crore in the 2023-24 budget allocation.  He said that the Kejriwal Government has not established any new hospital, and no improvement in the health infrastructure has been effected either, as the budget allocation was spent only on payment of wages. He said that last year, only ten new Mohalla Clinics were established for a total of 515 Mohalla Clinics, with every Mohalla Clinic bearing an expenditure of Rs 15-20 lakh. He said that no new hospital has been built in the last nine years by the Kejriwal Government while the Congress Government built 14 new hospitals, including 5 Super Speciality hospitals, and these hospitals were the  refuges for Delhiites when they were devastated by the Covid-19 pandemic. Others present at the press conference were Vice-Chairman of the DPCC Communications Department Shri Anuj Attrey and Chairman of the Social Media Department Hidayatullah.
Shri Anil Bhardwaj said that traffic jams have been creating havoc in Delhi for the past 9 years, and the Kejriwal Government has not built any new parking lot, with autos and e-rickshaws struggling to find space to park their vehicles, and the budget makes no mention about creating new parking facilities.
Shri Anil Bhardwaj said that Rs 16500 crore have been allocated for Education, but Kejriwal has not opened any new school, college or University in the past 9 years, despite having vacant lands. He said that it was startling to understand that out of 1027 Government schools 700 do not teach the science subject and mostly no not have science labs. He said the Kejriwal had promised to build 500 new schools, instead he shut down 18 existing schools. He said that how could Kejriwal talk about the "Delhi model of education" everywhere when there are 80 per cent shortage of principals and 33 per cent shortage of teachers. He said that it was shocking that only 8 students from the SC/ST community received higher education allowance, which was a gross injustice to the SC/ST students. He said that Congress has been demanding that the power subsidy amount should be credited into the accounts of the consumers instead of giving it to the power distribution companies, as such an arrangement helps the Kejriwal Government get kickbacks from the subsidy amount.
Shri Bhardwaj said that the Public Works Department  (PWD) of the Delhi Government  claims to have built 28 flyovers till now, and 29 more would be built next year, but according to RTI information, only 13 flyovers have been built from 2015 to 2022, which also includes the Signature Bridge, which was built by the Congress Government, and the Pragati Maidan underpass, which was a Central Government project, and a small bridge at Najafgarh.  He said that the DTC fleet has been shrinking every year to create tremendous difficulty for the public, while no new fire station has been established despite the DDA allotting three plots to the Delhi Government.