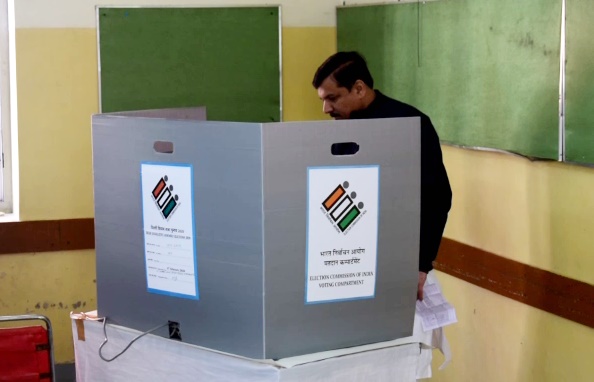 Kejriwal & Sanjay Singh hits back Manoj Tiwari over his 'Ashudh' remark
Saurabh Kumar/Lokesh Goswami Tennews New Delhi :
New Delhi : Breaking his silence on the 'Ashudh' remark made by Delhi BJP chief Manoj Tiwari, Delhi Chief Minister, and AAP supremo Arvind Kejriwal on Saturday alleged that the BJP has been mocking him ever since he recited the 'Hanuman Chalisa' on a TV channel. Taking to the microblogging site, Kejriwal sought to know what kind of politics the Bharatiya Janata Party (BJP) is doing.
Earlier today, Manoj Tiwari made a statement at CM Kejriwal after his visit to Hanuman Temple ahead of the polls on Friday.
Manoj Tiwari said, "Arvind Kejriwal visited the temple to seek blessings from the lord or to make Hanuman impure. HE used the same hands to remove his shoe and later offer the flower garland to the deity, what has he done? This only happens when people with false faith visit temples. I told this to the temple priest also and later he washed the dirt several times."
Retaliating back to Manoj Tiwari, AAP leader Sanjay Singh attacked him while his interaction with media after casting his vote under New Delhi Constituency. He said even today BJP is showing the lowest of politics and making extremely derogatory remarks against Arvind Kejriwal. "Delhi ke CM ko itni achoot bhavna se dekhti hai BJP? Is se zyada gira hua aur ghatiya bayan ho nahi sakta. Abhi bhi aap us yug mein hain jahan daliton ko mandir mein pravesh nahi diya jata tha. Shri Ram bhi ab BJP ko nahi bacha sakte."
The voter turnout till noon is 15.6 per cent, which is significantly lower that the 2015 assembly polls in Delhi. The result for the Delhi Assembly election 2020 will be declared by the election commission on Tuesday, February 11.