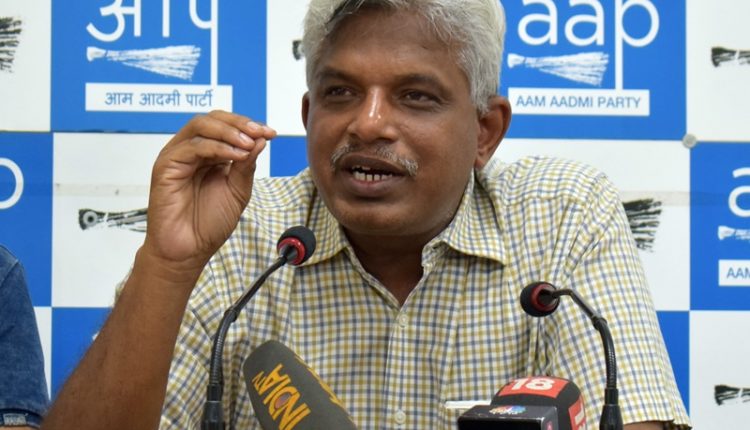 Kejriwal Sit-in Protest: AAP to hold massive protest outside PM Residence on June 17
Prerit Chauhan (Photo/Video) By Lokesh Goswami Ten News Delhi :
New Delhi: As opposition parties from across the nation and politicians like  former UP CM Akhilesh Yadav to Politician Kamal Hassan, BJP MP Shatrughan Sinha to major Leftist parties like CPI and CPI(M), are backing protest by Arvind Kejriwal and AAP ministers.
Delhi Chief Minister Arvind Kejriwal and his three Cabinet colleagues continued their sit-in protest at the Lt Governor's (LG) office on Saturday while the Aam Aadmi Party (AAP) workers are preparing for a mass agitation on Sunday.
AAP leader Pankaj Gupta on saturday said, we are preparing for the protest on Sunday from Mandi House to the Prime Minister's residence if our demands were not met. 
Addressing the Media, AAP National Secretary Pankaj Gupta said, .
"On one side we are celebrating Eid. Where there is Eid Celebrations going on, Our CM is on indefinite fast from 6 days
at LG House. LG don't have time to meet Kejriwal and our other ministers who are protesting. Our CM is sitting from past six days that means there is a big problem. All the other parties have supported Aam Aadmi Party. They have have sent a clear message to LG and PM Modi, that let AAP Party to their work without creating Hurdles."
"It's a matter of shame that 6 days have passed and they are not saying a single word.We thought that this protest will not reach this stage where it is now. B-Team of BJP, Congress is silent completely. Tommorow we are ready to hold massive protest from mandi house to PM Residence. All the Gathered people will create a demonstration to PM Residence till our demands were not met," added Gupta.