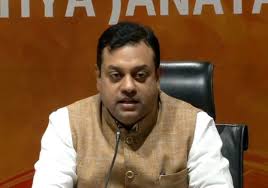 New Delhi: BJP on Wednesday mounted attack on Congress on multiple issues a day after Vijay Mallya expressed intent of settling all his outstanding loans. 
Addressing media, BJP spokesperson Sambit Patra said Mallya got all his loans under UPA rule and was the king of good times, a play on Kingfisher's tagline. Mallya's letter is a testimony to how dedicatedly Modi government has looked to book and extradite economic offenders. He also questioned the silence of Rahul Gandhi over Robert Vadra. 
Patra said, "Income Tax Department has directed Robert Vadra to pay arrears Rs 25 crore for the year 2010-11. We want to ask Rahul Gandhi that what does he have to say on the Income-Tax evasions of Robert Vadra?"
Elaborating his allegations, BJP spokesperson said, " In 2010-11, Robert Vadra showed on the basis of assessment that his income was only Rs 37 lakh and now the Income Tax Department has found that his income was 43 crore rupees. Rahul Gandhi should reply what it is?"
Patra said,"Suddenly the corrupt people have started feeling insecure, two of them who have become the epitome of the corrupts are Robert Vadra and Vijay Mallya". 
BJP's renewed attack comes close to heels of Rahul Gandhi sparing no chance to press government regarding several high-profile fugitives like Nirav Modi, Lalit Modi, Vijay Mallya. 
Liquor baron Vijay Mallya on Wednesday reiterated that is making every effort, in good faith to settle dues with the banks, but if politically-motivated factors interfere, there is nothing he can do.
In a series of tweets, Mallya said an application has been filed to sell his assets to recover dues and repay creditors.
This came a day after Mallya broke his silence over the controversy surrounding him of defaulting on bank loans to the tune of Rs 9000 crores, claiming that he had been falsely framed as the "poster boy of Bank default and a lightning rod of public anger".
"The man who was king of good times and make other's posters has now become poster boy of  bank defaults. This is the difference between BJP and Congress regime," Patra asserted.