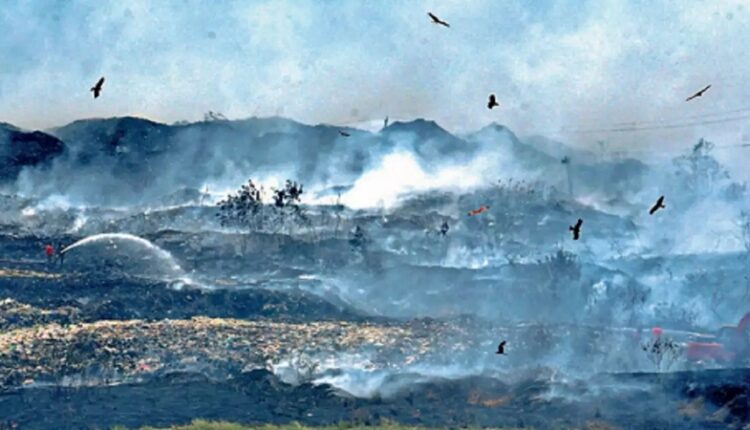 Kochi Chokes on Toxic Fumes from Waste Plant Fire
Ten News Network
New Delhi (India), March 10, 2023: The city of Kochi in Kerala has been enveloped in a haze of toxic fumes emanating from a waste plant that caught fire last week. The solid waste treatment plant in Brahmapuram, run by the city corporation, is notorious for such fires during this time of the year.

However, this time, the fire has continued to smolder, and the resulting thick smog has spread across various areas of the Ernakulam district, including Kadavanthra, Vyttila, Maradu, and Panampally Nagar.
The smoke and pungent odor of burning plastic have made it difficult for the city's residents to carry out everyday activities, and the government has advised them to remain indoors and wear N-95 masks before venturing out. Educational institutions have also been closed for two days, starting Thursday.
The fires at the Brahmapuram dump yard occur when organic waste combines with halogenated plastics such as PVC, which undergo partial combustion, producing fumes laden with dangerous chemical compounds like dioxins and toxins.
Consequently, hospitals have seen an increase in the number of patients with lung-related ailments, colds, and skin burns, while at least 20 firefighters have developed breathing issues from exposure to the smoke.
Although experts believe that the anaerobic decomposition taking place underneath the piles of waste is generating flammable methane gas, making it challenging to put out the fire, firefighters remain committed to fully extinguishing the flames. Meanwhile, locals continue to raise concerns about the fires and their potential health hazards.