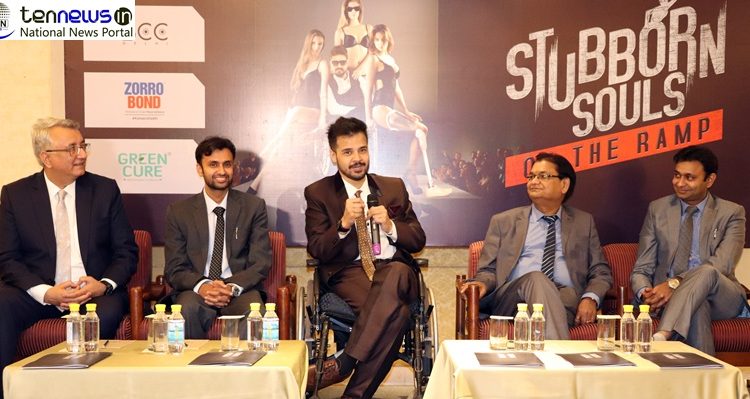 La Intimo on International Day of Disabled Persons launches "Stubborn Souls" for Differently abled
Vishal Malhotra (Photo/Video) By Lokesh Goswami Ten News
New Delhi: La Intimo, India's first premium intimate wear brand knows no limits when it comes to , differently-abled people, celebrated the international Day of Persons with Disability day by empowering the specially-abled people.
La intimo has written many success stories till now and spread its wings,. Now it's time for them to fly and make these specially-abled people fly. La intimo's thoughts & efforts were put into action long back by making Sourav Gupta its brand ambassador.

Sourav, who became paralyzed at the age of 15 due to an accident in the swimming pool, could not achieve his dream of becoming a model, but he did not allow the physical disability to stop him from excelling in his career choice. Today, Sourav is not just a Model but also the Brand Ambassador of La Intimo.
La Intimo together with Sourav, spreaded a ray of hope for all the specially-abled 'Stubborn Souls' that nothing is impossible to achieve and 'Disability is only a State of Mind'.
Yogesh Mittal, MD La Intimo speaking to Ten News said,
"Generally, people can't correlate these two terms. We are not here to question the fabrics of our social system or to teach anyone anything. This is just a fervent appeal to all the people, and especially to those from the Fashion Industry, to think beyond just the 'normal' both physidally and psychologically.
We are in the Fashion Business and it goes off well to have chosen this field to contribute. Our objective is to let these differently abled people walk the ramp. This is just a beginning to bring a change in the way we look at "Fashion and Differently abled. With our bold initiative, we are sure to ignite the concept into the Fashion Industry. We are hoping that the Fashion designers or others from all walks of life would come forward to guide and help in grooming people and allow them to walk the Ramp. Differently abled just need an opportunity to prove their potential, they need holding hands & unconditional Love. Let's exercise & execute our affinity & compassion towards these stubborn souls find sustainability in life and not just sympathy."
"Our bodies may be affected to some extent but our dreams and desires are not. Let's collaborate and help the Stubborn Souls like Physically & mentally challenged, acid attach survivors, vision disabled, hearing disabled, Learning Disabled and many more. Deep beneath we are all profoundly a stubborn soul!!
Fashion is an attitude that's worn inside out. In fact, wearing designer clothes on one's body along with proudly showcasing their physical challenge is appealing in itself.", Marketing officer of La Intimo Rajeev added.