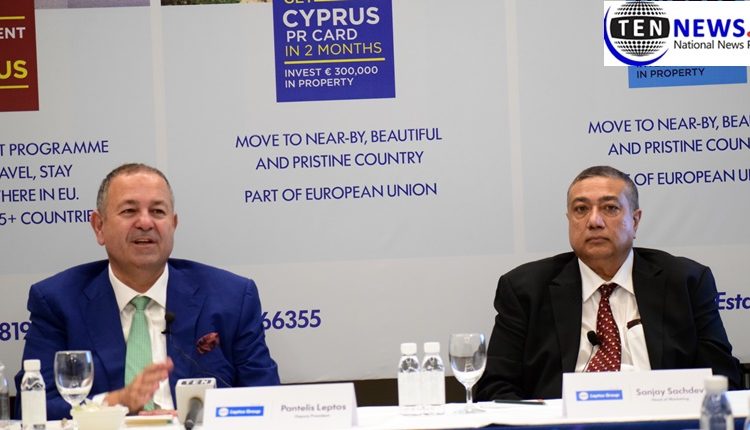 Leptos Estates launches residency and citizenship schemes for Indians
Saurabh Kumar/Lokesh Goswami Tennews New Delhi :
New Delhi: Leptos Group came up with a scheme under which they are offering Indians to become official residents of the European Union in 60 days only by acquiring residency in Cyprus and Greece with Leptos Estates.
Cyprus' largest developer, Leptos Estates, is the biggest and most successful provider of residency and citizenship schemes across Cyprus and Greece, processing hundreds each year, of which Indian investors make up an ever-increasing proportion.
Highlighting its benefits, these countries offer a quicker, cheaper and more comprehensive residency-by-investment scheme, as compared to other countries. Leptos points out that the two countries of the European Union makes for an excellent choice for wealthy Indians with large families and family-run businesses.
Pantelis Leptos, Deputy President of Leptos Group of Companies, comments; "We often find buyers coming to us directly, because we offer a totally comprehensive range of services, removing the stress for our clients. From land acquisition, design and build, furnishing, property management, landscaping, to local advice, we ensure our clients are skilfully guided through the process, whatever their requirements. We also help them rent and re-sell."
Corroborating the above statement, as per a report released by Professional Wealth Management, Cyprus ranks among the top 10 destinations for residency-by-investment, along with destinations such as St Kitts and Nevis, Grenada, Antigua, St Lucia and Austria.
Adding to the insights, as per another report published by Knight Frank Wealth Report 2019, 21% of Indian ultra-high net worth individuals showed an affinity towards purchasing homes outside India.