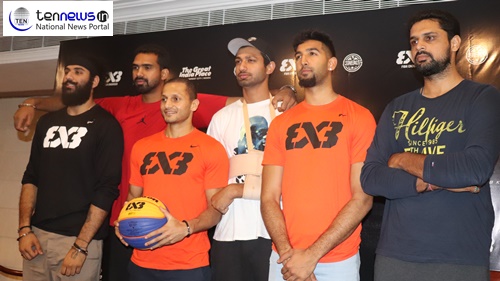 New Delhi: To promote Basketball in India, on the lines of Indian Premier League 3BL 3×3 pro basketball league is going to organize country's first 3×3 basketball league is going to kick start on June 9 at Great Indian Palace, Noida.
There are 12 teams in the tournament with the names of different cities and in just two days there will be 19 matches with music, dance and entertainment. The league is recognized by the International Basketball Federation where renowned basketball sensations like Amjyot Singh, Palpreet Singh Brar and international basketball sensations like lnderbir Singh Gill, Leandro Sauza Lima and more will participate.
Rohit Bakshi, League Commissioner, 3BL 3×3 Pro Basketball League said, "Bringing 3×3 Basketball to India has been more of an opportunity than a challenge and I believe there is immense talent and potential in the country that is yet to be tapped. We are here to provide a platform and make it larger than life and I am glad to get support from various influencers on this journey and I am confident that India will witness even more basketball stars in the coming years."
The fastest growing urban team sport in the world, 3×3 Basketball is a shorter format (10 minute), high speed version of 5×5 Basketball. It has been recognised as an Olympic sport and will be introduced at the 2020 Tokyo Olympics.
The inaugural season of 3BL in India will feature 12 teams Delhi Hoopers, Chandigarh Beasts, Jaipur Regals, Aizawl Legends, Kolkata Warriors, Ahmedabad Wingers, Bangalore Machas, Goa Snipers, Kochi Knights, Hyderabad Ballers, Chennai Icons and Mumbai Hustlers.
The matches will be played over six rounds in Delhi/NCR, Mumbai, Kolkata, Bangalore, Chennai and Aizawl from 9th June 2018 to 26'h August 2018. The winners of the tournament(s) will get to represent India at the FIBA World Tour(s).