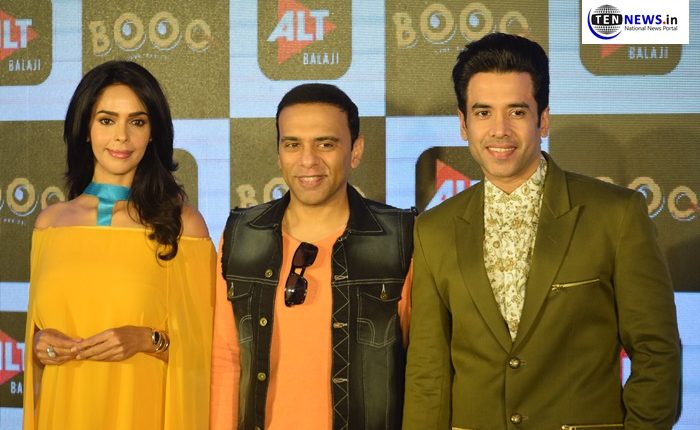 Malika Sherawat and Tusshar Kapoor share their experience of digital debut in ALTBalaji's 'Booo Sabki Phategi' 
Prerit Chauhan / Rahul Kumar Jha
New Delhi: Director Farhad Samji with his Starcast Tusshar Kapoor and Mallika Sherawat of his ALTBalaji web series Booo Sabki Phategi were seen in National Capital today for the promotion of thier Horor Comedy Web Series.



The cast of the show includes Tusshar Kapoor and Mallika Sherawat, and comedians like, Krushna Abhishek and Kiku Sharda and Sanjay Mishra.
Talking about the plot of the web series, it has two characters called Manav played by Tusshar Kapoor, while Mallika Sherawat is playing the role of a ghost called Hasin. Manav is a decent and shy type of guy who is the target of the lady ghost, so what really goes in it would be interesting to catch as the web series is a blend of both the elements horror and comedy a worthy mix to catch in any web series.

The makers have released the trailer and it is gaining a good watch getting sea amount of views from all the corners of the world as it happens to be a riot laugh with the horror elements. Stay tuned to explore the horror comedy and share your views as to how did you find it only with us.
Speaking on the occasion, Tushar Kapoor said, "This is my digital debut, and I am really excited to associate with Farhad Again, who also happens to be my writer from Golmal. I have got an overwhelming response from audiences to the trailer and I'm hoping now the audiences will binge-watch the show."
Malika Sherawat on her digital debut said, "This is the first time that I'm playing the character of a ghost and i completely enjoyed it. This has been a fabulous Oppurtunity for me, working with actors who have such amazing comic timing like Sanjay Mishra, Kiku, Krishna and Tusshar."