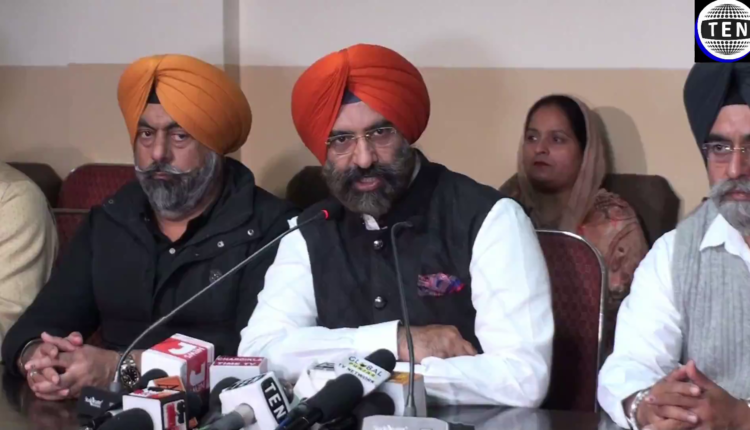 Manjeet Singh GK's plans to grab Hari Nagar school will not succeed: Manjinder Singh Sirsa
Vishal Malhotra / Harinder Singh
New Delhi (21/02/2020): Manjinder Singh Sirsa, president of the Delhi Sikh Gurdwara Parbandhak Committee, has said that the committee will never let Manjit Singh GK succeed in grabbing his Guru Harikrishna Public School, Hari Nagar.
Addressing a press conference with the committee's general secretary Harmeet Singh Kalka and other officials here today, Sirsa said that the school of Hari Nagar was received by the Delhi Gurdwara Committee according to the order of the Akal Takht Sahib. He said that neither this school can be given to anyone nor does anyone have the right to give it to someone else.
"Manjeet Singh GK, you want to rob this school, but it will not be allowed to happen at any cost", added Sirsa.
Sirsa has said that Manjeet Singh GK is the first member in the history of Delhi Committee to have caught the theft of Rs 55 crore and dismissed his membership in the General House of Members according to the opinion of Sangat. He said that the Delhi Committee had given a month's time to Manjit Singh GK to give his clarification as per the order of Sangat, but he has kept silence in this regard.
Sirsa said that it seems that like Manjit Singh GK changed his property in-laws and will to get half the property in his name, in the same way he wants to take possession of Hari Nagar School.
In response to all the questions in the statement of Jathedar Avtar Singh Hitta, Sirsa said that Jathedar Hitta has clarified that he has given this school to Delhi Committee as per the order of Shri Akal Takht Sahib and now it owns the committee.
The Delhi Committee President said that Jathedar Hitt had told the members at the General House meeting that if any member remained silent today, Sangat would not forgive. On this occasion, he also narrated the video of Jathedar Hitta to journalists.
He reiterated his point and said that the property of the committee will be taken back from GK, which he has made by making knuckle paper. He said that if GK thinks that he wants to rob then he will not allow this to happen.