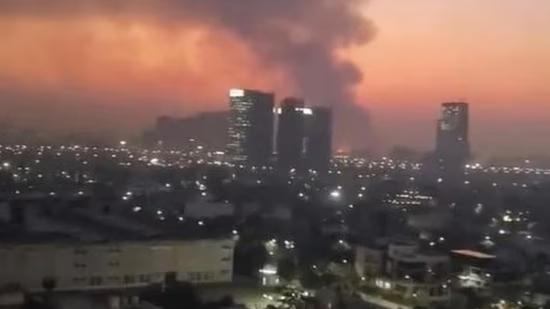 Massive Fire Breaks Out at NTPC Eco Park Delhi
Ten News Network
New Delhi (India),19th Jan 2023: A massive fire broke out at the NTPC Eco Park in southeast Delhi on Wednesday, causing thick black smoke to billow above the area.
According to officials, no injuries have been reported in the incident.
The fire department received a call about the blaze around 5:40 p.m., and five firefighters were dispatched to the scene. Firefighters arrived to find that the fire was confined to the bushes.
Two of the fire trucks got stuck in a swamp while trying to reach the site, and efforts were made to clear a path so that the fire could be doused. The cause of the fire is currently unknown.
Delhi Fire Services Director Atul Garg stated that they were making efforts to reach the spot. In addition, officials reported that there were no settlements in or around the area that caught fire. A heap of garbage at the site also caught fire.
There are suspicions that drug addicts may have played a role in the incident. An official stated that there is a possibility that some drug addicts threw something in the bushes and that police will investigate the matter.
Social media was filled with videos of the smoke rising to the sky. One person took to Twitter to say that the fire, which was visible from Noida, seemed like stubble burning and called for strict action.
The police have yet to determine the reason behind the fire, and if anything suspicious is found, they will take action. Cooling operations were still ongoing as of Wednesday night.