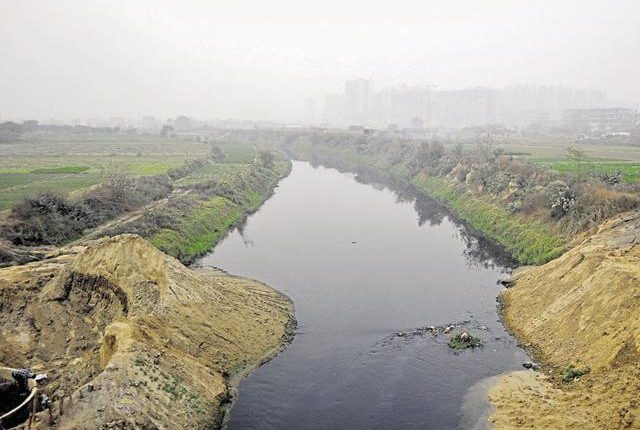 Massive Tree Plantation drive to be started along Hindon flood plains to develop dense forest!
Ten News
Planning for the revival of Hindon river seems to be started after the Uttar Pradesh solid waste management monitoring committee chairman, Justice DP Singh, has directed the district forest and irrigation departments of Gautam Budh Nagar to develop dense forests on Hindon floodplains in order to protect the dying river.
A team comprising committee officials, along with the Uttar Pradesh pollution control board (UPPCB) staff and officials from the Noida and Greater Noida authorities had, on June 13, conducted inspection of the Hindon to check the status of pollution. The committee was upset over the condition of the Hindon, which passes through Noida and Greater Noida. In its report submitted to the state government, the committee has pressed for further action on rising pollution in the river.
Chief minister Yogi Adityanath, during his visit to Greater Noida on June 14, also expressed his concern on pollution in the Hindon. Parts of floodplains around the 17km stretch of the river passing through Noida and Greater Noida have been sold as residential land by mafia. Thousands of people have started living in houses built on floodplains and have been discharging sewage into the river.
The Hindon originates from Pur Ka Tanda village in Saharanpur and confluences with the Yamuna near Momnathal in Sector 151, Noida. In its journey to reach Momnathal, the river passes through Muzaffarnagar, Baghpat, Meerut, Ghaziabad and Greater Noida. Past initiatives by the government have failed to rejuvenate the 400km-long-river which is all but dead and now mostly carries sewage from the five districts through which it flows.
"We have directed the Noida and Greater Noida authorities to ensure that untreated sewage is not dumped into Hindon. Apart from this, we have directed the UPPCB to impose heavy penalty against builders, industries and other firms who dump their untreated sewage into city drains that finally reaches Hindon. Our objective is to save the Hindon otherwise we will not be able to get adequate water for drinking purposes in future." Singh said.
According to the district administration, the irrigation and the forest departments will be planting trees along the Hindon in July. But land which belongs to farmers and is part of the floodplains will not be included in the plantation drive.