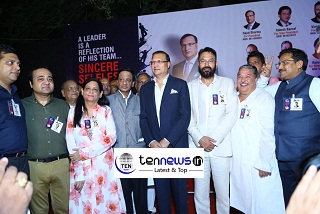 MEDIA BARON and TV Star -RAJAT SHARMA REVEALED CANDIDATURE LIST FOR UPCOMING DDCA ELECTIONS
New Delhi, 11th June 2018: Padma Bhushan awardee and Editor in Chief of renowned Hindi news channel INDIA TV, Rajat Sharma announced the name of candidates of his faction for DDCA Elections. The dinner was hosted by Former Treasurer, DDCA – Ravinder Manchanda, at Roshanara Club, New Delhi.
The battle ropes have been mapped ahead of the Delhi & District Cricket Association (DDCA) executive body elections which is the governing body of Cricket activities in the Delhi State of India and the Delhi cricket team. It is scheduled for June 30th with Rajat Sharma, positioning his nomination for the post of DDCA President.
Rajat Sharma's team consists of Rakesh Bansal who will fight for the post of Vice President, Vinod Tihara (Secretary), Om Prakash Sharma(Treasurer) and Rajan Manchanda ( Joint Secretary).
These are the prominent faces contesting for the various positions: Renu Khanna for Director Woman, Apurv Jain, Alok Mittal, Nitin Gupta, Shivnandan Sharma, CA Sudhir Kumar Aggarwal, for Director and Sanjay Bhardwaj for Director First Class Cricketer.
Addressing the guest Mr Rajat Sharma, CEO India TV said," I want to bring glory back to DDCA. DDCA has given world class players like virat kohli, Gautam Gambhir, Virender Sehwag,  Ashish Nehra and many others. I want to ensure that this process continues.  Our young Cricketers get better facilities, efficient coaching and transparency in selection. I will have a time bound plan to improve infra structure and the ground facilities. Players , members and visitors should get a world class experience when they come to Ferozshah Kotla. I think that a leader should have the vision, will and the strength to get the decisions implemented. I believe in selfless and sincere service to work. And it will change the DDCA for better".
Former Treasurer DDCA Ravinder Manchanda expressed," I am very positive towards the approach of Mr. Rajat Sharma and team. I believe they will identify the concern and jointly work for the development of Delhi & District Cricket Association. DDCA is looking for a proper team to assess every aspect and I feel they will deliver.
There are approximately 3,500 members, presently entitled to vote for the DDCA Election which is going to be held on June 30th, but this year, members are required to be present personally, in order to vote.