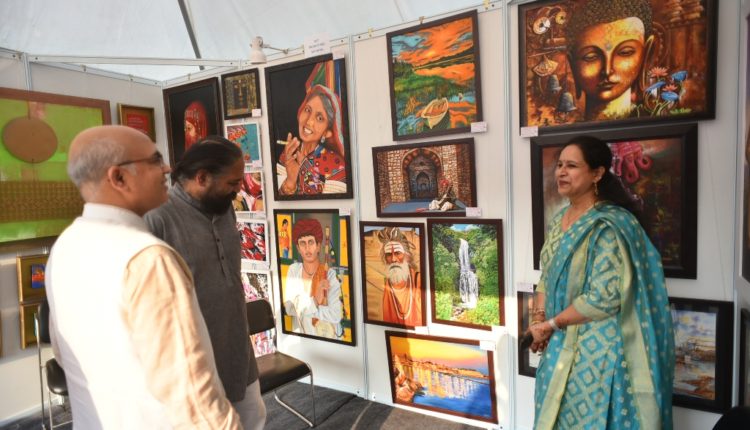 Mega Art Fair "Festival of Art" Organized By Akatva Arts Concludes In The City
New Delhi, 23rd, October, 2019:  Mega art fair "Festival of Art" organized by Akatva Arts Ends in the city. This event was inaugurated by Vijay Goyal, BJP, former Minister of State for Parliamentary Affairs and Statistic and Implementation and few more prominent personalities grace the occasion with their presence.
This mega festival shows the creations from artist communities from all over the country for 4 days. The whole four day program consists of live workshops, demonstrations, talk shows and panel discussions covering various aspects of art. Mr. Ashish Mishra, Director & Organizer, Akatva Arts is the man behind this colourful and vibrant festival. The event is built around Modern and contemporary art including paintings, photography, drawings, sculptures, installations and digital art. The theme is presented through manuscripts, sculptures, paintings including miniature painting, wooden, bronze, stone, terracotta arts & crafts, textiles, audio-visual and multimedia presentations. It has specifically designed installations to explain abstract philosophical concepts.
Names of galleries and artists Participating:
Merakii Art House, Neerja Chandna Peters, Dubey's Art, Majlis Art Forum, Vatsala Arora Khera, Meena Goel, Art Devil, Dreamz Art Gallery, Monika Singh and Tapan Das, Aruna Tiwari, Swati Choudhary, Uchaan Art Gallery and other galleries.
DD Mishra, Kiran Soni Gupta, Dr. Chirag Upreti, Vijay Anand, Mahesh Chauhan, Aishwarya Singh, Mehnaz Asif, Ruchi Agrawal, Ajay Chandak , Mohit Bhardwaj, Ruchira Hazra, Anamika, Monika Arya, Sagar Romendra, Anjali Kumar, Mukta Gupta, Shagufta Khanam , Ansh Malik, Nandini Sharma, Shalini Sharma, Aparna, Neeti Dwivedi , Simple Mohanty Pani, Aruna Asaf Ali, Nidhi, Sohini Banerjee, Ashish Agrawal Pankti Jain , Srishti Gupta, Bela Kejriwal, Rajesh Sharma, Swapnil Karnawat, Jayesh Kyada, Rajib Agrawal, Tuljanand Manik, Jolly Sharma, Rajpal Singh, Vaishali Bhavsar, Kimi Juneja, Rajshree Verma, Kiran Singh, Renu Agarwal, Madhu Gupta, Ritu Singh, Manish Rao, Rohini Kumar, Meenu Rastogi and many more artists.
Akatva Arts (AA) endeavors' to ensure that the people come forward to appreciate and connect with its rich heritage and arts. Akatva Foundation is an independent, not-for-profit organization based in Delhi NCR that aims at promoting and supporting the arts and culture in India. AA is committed to support, nurture and nourish emerging artists' interventions and cultural explorations. Due to various hurdles faced the talent remains buried. It aims at providing a platform to artists; so that to interact closely with them and help to give voice to their concerns. Its main aim is to encourage art philanthropy in India which could help artist community sustaining their creativity with a livelihood.