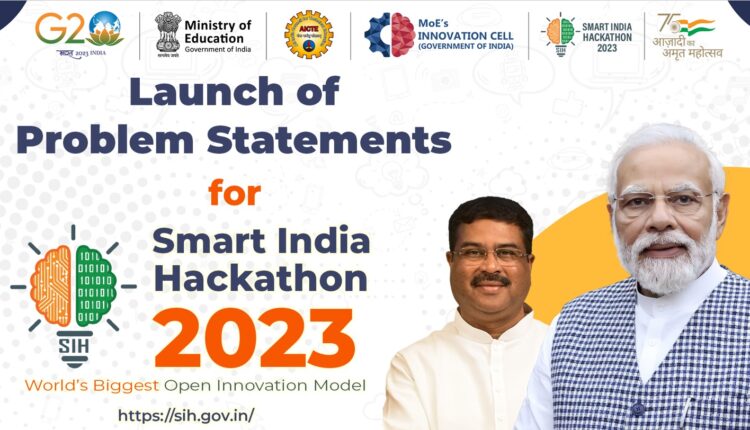 Ministry of Education ( MoE) announces launch of Smart India Hackathon 2023

25th August, 2023, New Delhi: The Ministry of Education's Innovation Cell at All India Council of Technical Education (AICTE) on Wednesday announced the launch of Smart India Hackathon (SIH) 2023, now in its sixth edition. Gracing the occasion were Secretary Higher Education, Shri K Sanjay Murthy (IAS), Chairman of AICTE, Prof. T.G. Sitharam, and Vice Chairman, Dr. Abhay Jere, who shared their insights.
Secretary Higher Education, Shri K Sanjay Murthy (IAS), expressed his enthusiasm for this year's hackathon, " The innovation cell under Dr. Abhay Jere is doing excellent work in organizing the hackathons. During this year's G20 Presidency, we were honored to host the UNESCO India Africa hackathon, wherein 22 African countries participated and our students got the opportunity to work with the teams of African countries on the problem statement that were pertaining to that continent. Two weeks back, we did a KAVACH Hackathon with the Ministry of Home Affairs on the cyber security theme. Therefore, there are many challenges that are anchored by AICTE through such hackathons".
Chairman of AICTE, Prof. T.G. Sitharam, emphasized the importance of innovation in shaping the future, and said, "The future is built on innovation! With a network of more than 7500 Innovation Institutes spanning the country, the Smart India Hackathon presents participants with an extraordinary chance to address problem statements emanating from diverse government bodies and ministries. This is poised to ignite unconventional solutions and novel viewpoints."
Speaking on the occassion Dr. Abhay Jere, Vice Chairman of AICTE, highlighted the evolution of the hackathon, saying, "Since its establishment in 2017, the Smart India Hackathon has evolved into the globe's most extensive hackathon and innovation paradigm. As we embark on the journey of the 6th edition, this platform remains committed to encompassing a wide spectrum of themes, spanning from agriculture and health tech to transportation. This resoundingly showcases its unparalleled comprehensiveness."
Smart India Hackathon (SIH) is a collaborative effort by the Ministry of Education's Innovation Cell and the All India Council of Technical Education (AICTE). With an impressive array of 239 problem statements, including 182 software statements and 57 hardware challenges, the event has secured involvement from 26 Central Ministries, 6 State Ministries, and 4 Industry partners, making SIH 2023 a true testament to collaborative innovation.
Moreover, following the success of the SIH Junior Edition in 2022, the second edition of the Junior hackathon 2023 is also launched in order to empower students from 6th to 12th grade. These young innovators will have the opportunity to showcase their talents and generate out-of-the-box open innovation ideas across various themes.
The themes of SIH 2023 encompass a wide spectrum of societal needs. The themes for SIH 2023 are Agriculture, FoodTech & Rural Development, Blockchain & Cybersecurity, Clean & Green Technology, Disaster Management, Fitness & Sports, Heritage & Culture, MedTech / BioTech / HealthTech, Miscellaneous, Renewable / Sustainable Energy, Robotics and Drones, Smart Automation, Smart Education, Smart Vehicles, Transportation & Logistics, Travel & Tourism and Toy.
Some of the interesting problem statements include the development of a Blockchain-based e-vault system for legal records by the Ministry of Law and Justice. One of the current challenges being faced in the hilly areas is related to a prediction system to identify Cloudbursts by analyzing meteorological parameters and weather patterns (given by the Ministry of Power). A challenge in the field of cyber security and threat assessment is given by the National Technical Research Organisation (NTRO) to develop a Ransomware Readiness Assessment tool towards stopping/mitigating threats from ransomware attack.
The last date for Idea submission for senior SIH is September 30, 2023, whereas for Junior SIH it is October 30, 2023. The tentative date for the grand finale of Senior SIH and Junior SIH is in the first week of November 2023 and January 2023 respectively.