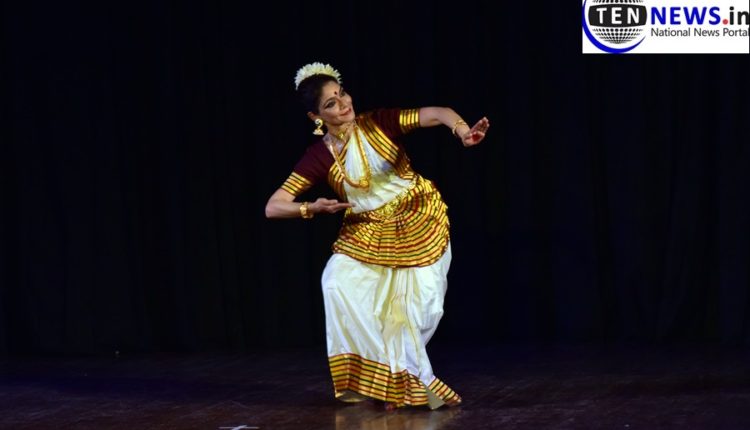 Mohiniyattam performance by Vani Bhalla Pahwa mesmerised Delhi Audience
New Delhi (31/01/2020): It was a beautiful and soulful evening yesterday, featuring two diverse styles of Dance, in the form of Kathak by Abha Auti and Mohiniyattam by Vani Bhalla Pahwa at the 'Double Bill Dance Concert' by India International Centre.
The enthralling dance performances by the two dancers, Abha Auti from Pune and Mohiniyattam by Delhi based Vani Bhalla Pahwa enchanted the audience.
Vani, presented a collection of some intricately beautiful and lyrical compositions choreographed by her Guru Padmashri Bharati Shivaji. Vani showcased exceptional artistry in her presentation, in a style she has grown and evolved with over several years, and which is so unique in its identity and grace. The evening's performances were a combination of items highlighting the distinctly characteristic body movements of Mohiniyattam, along with abhinaya, that enthralled the audience.
Vani commenced her performance with an invocatory item in which the devotee invokes blessings of Lord Ganesha – the vanquisher of obstacles, followed by obeisance to Devi Saraswati – the goddess of art. This item depicts a sequence of descriptive elements leading up to the emergence of Ganesha as follows: in the midst of an ocean of milk is a golden tree; beneath this tree is a golden platform, upon which rests another platform; adorned with silk fabric. This fabric is sprinkled with holy rice; on which is the wriggling mouse upon whom is seated, none other than Lord Ganesha- the son of Shiva and Parvati.
The devotee prays to Ganesha, and subsequently to Devi Saraswati to rise and bestow blessings upon the world. This is in Raga Arabhi set to Talam Chembada.
The second item was MUKHACHALAM, a pure dance composition, where nritta is highlighted, displaying characteristic movements of Mohiniyatam. It is set to varied tala patterns. Here, the regional and highly lyrical talas and ragas of Kerala are incorporated. This choreography has been composed in Taal Malika and Ragamallika beginning with Begada followed by Saveri and Desakshi, a Sopana raga. She continued her performance with a Padam – an emotive piece. This item describes an adolescent maiden who awakens from her dream, wonder struck as to who the handsome man was, who appeared in it. Her heart stolen, she feels embarrassed sharing details of her dream's intimate experience with her friends. She wonders if it could be Kamadeva, but he is formless, whereas the man of her dreams had a radiant, royal form. Could it be Shiva? But where is the third eye? Oh! It was perhaps Indira. But wasn't he cursed with numerous eyes on his body? What about Chandra! But even he has marks on him. So who was the lotus eyed, lotus lipped and lotus face man who came in her dreams? Surely! It is Abjanabha! She then exits searching for him. This is Raag Kedaram set to Talam Chembada.
In addition to being a dancer, Vani is a Rehab & Movement Specialist and one of the country's first Cancer Exercise Specialist. Drawing from her dual understanding of the human body through dance and fitness methodologies, Vani is constantly highlighting the vast repertory of unparalleled wealth India's indigenous art forms and traditions offer, as a unique mix of art and science.