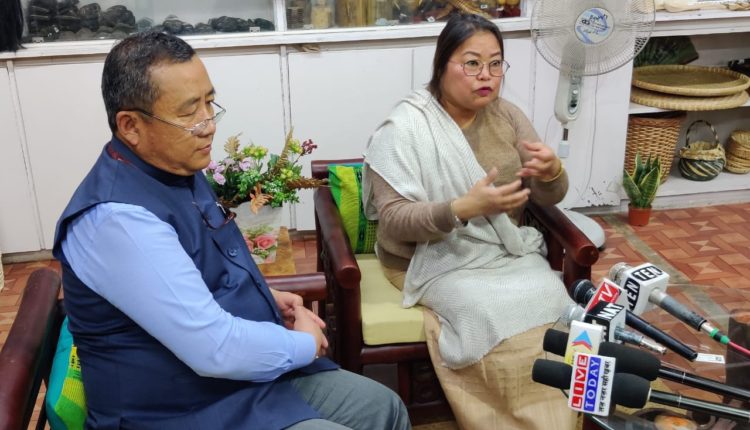 Nagaland Government launches Handcrafted products at Nagaland Emporium, CP
Vishal Malhotra/Lokesh Goswami Tennews New Delhi :
New Delhi (27/02/2020): Plethora of handcrafted products along with organic food, handloom clothes, bamboo Furniture were launched by the Department of Industries and Commerce, Government of Nagaland on 27th February 2020 at C2, State Emporia Complex, Baba Khadag Singh Marg, New Delhi. The launch was inaugurated by Lithrongla G. Chishi, IAS, Principal Secretary, Industries & Commerce, Government of Nagaland. Beautifully crafted handicraft products were shown at the event of product launch. This was a hand holding initiative by the Government of Nagaland to promote the finest arts, crafts, handlooms and organic products of the state.
The venture is the collaborative effort of the Nagaland Bamboo Development Agency, (NBDA), Nagaland Beekeeping and Honey Mission (NBHM), Nagaland Bio Resource Mission (NBM), Myki under Women Resource Development Department, Govt. of Nagaland, Development of under Developed Areas in partnership with Nagaland Handloom & Handicrafts Development Corporation Ltd. a PSU under Government of Nagaland. Marking the occasion, the Principal Secretary Lithrongla G. Chishi, IAS along with Imtirenla Jamir, State Mission Director (NBM), Renbeni Ngullie, Deputy Secretary, Team Leader NBHM Er. khuvozoyi vese, Managing Director Zakabo V Rotokha, NHHDC also planted decorative bamboo saplings within the premises of Nagaland Emporium Delhi.
The Principal Secretary stated that, "This is a proud initiative by the Government of Nagaland because where everyone is adopting market product based lifestyle; we are here to promote organic products." She also said that this initiative not only defines the importance of the organic and handcrafted products but also it gives a platform to those talented hands a big opportunity to showcase their talent of creating handcrafts and continuing the legacy."
Managing Director NHHDC quoted that, "We were glad to present our decorative bamboo sampling at this product launch event. This gave us the opportunity to showcase some real and important talents. Everyone made great efforts on their designs and handlooms. I thank and congratulate everyone who participated in this event and invited so many talents."