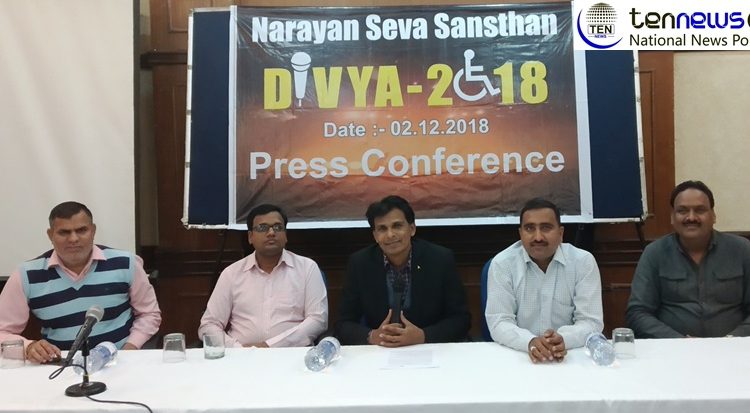 New Delhi, (30/11/2018) : To inspire and motivate differently abled people, Narayan Seva Sansthan (NSS) is all set to organize a Divyang Talent & Fashion show on the eve of International Day of Persons with Disabilities. To be hosted in New Delhi on 2nd Dec. 2018 at Red Fort, The programme will have different groups of performers who will be performing on wheelchair, crutches and calipers and with artificial limbs. Each round will have 10 participant models walking on the ramp. With every especially abled model, there will be an able model to support.
Speaking to media persons at the press conference, Mr. Ompal Silan, Spokesperson, Narayan Seva Sansthan said, "The event will be blessed by Prashant Agarwal, President of Narayan Seva Sansthan. The programme that will kick start at 6 pm will have four different groups of performers; groups are wheelchair, Crutches, Calipers and artificial limbs. These groups have performed earlier during fashion and talent shows organized at Udaipur, Surat, Jaipur and Morbi with confidence. The journey of these Divyang performers had not been easy and they have put in their maximum efforts in organizing this Talent Show."
By this unique fashion show, Narayan Seva Sansthan aims to empower persons with disabilities by ensuring their inclusiveness and equality in the world. The NGO is also providing training to the differently abled for Tailoring, Mobile Repairing, Computer and Hardware coaching skills.
Recently, NGO organized, Free of cost Limb measurement and distribution camp across India. They also conducted High tech clinical trials of myoelectric prosthetics. The NGO offers over 25,000 callipers and 11,000 modular artificial limbs every year. The hospital offers callipers, modular equipment, tricycles, wheelchairs, limbs and many others for the needy patients free of cost. Till date, it has donated around 7.95 lakh wheelchairs and about 2.59 lakh tricycles.
Narayan Seva Sansthan runs 1100 bedded hospital for specially abled where it conducts major surgeries in free of cost on specially abled individuals to make them physically fit and that's not enough, it helps such humans to enhance their skills into a specific stream under vocation programmes and helps to find employment too. Narayan Seva Sansthan has a skill center inside its campus where training on tailoring work is provided. These trained handicapped individuals have designed the best of the apparels to showcase on the ramp by specialy abled models.
About Narayan Seva Sansthan:
Narayan Seva Sansthan is a blessed heaven for the differently able and underprivileged individuals in the world. Founded by Padma Shri Kailash 'Manav' Agarwal in 1985, Narayan Seva Sansthan is a charitable organisation serving to bring the differently able community to the main stream society by empowering them physically, socially and economically. Situated at Badi Village near Lake City – Udaipur, Narayan Seva Sansthan is surrounded with the range of Aravali Hills right in the lap of nature.
Narayan Seva Sansthan is a 'Smart Campus for differently- Able' with all the facilities for the physically impaired humans who feel deprived in any way, at any stage of life. The Sansthan operates with its 480 branches in India and 86 branches abroad focusing on alleviating disabilities. As a daily practice, a free of cost vehicle reaches to pick-up the patients and their families at the Udaipur Railway Station further providing free accommodation and food at guest house.
Narayan Seva Sansthan is the hope for physically impaired patients suffering from Polio, Cerebral Palsy,and other by birth disabilities belonging from India, Afghanistan, Pakistan, Nepal, Bangladesh, Ukraine, UK and USA. Narayan Seva Sansthan has operated over 3.5 lakh patients in last 30 years and has provided them a full socio-economic support by availing best of the medical services, medicines and technologies in free. This is a place where there is no cash counter for anything that anyone is in need of. It has 1100 bedded hospitals functioning with a team of 125 doctors and nursing staff, who are operating about 95 patients daily and servicing the humanity.