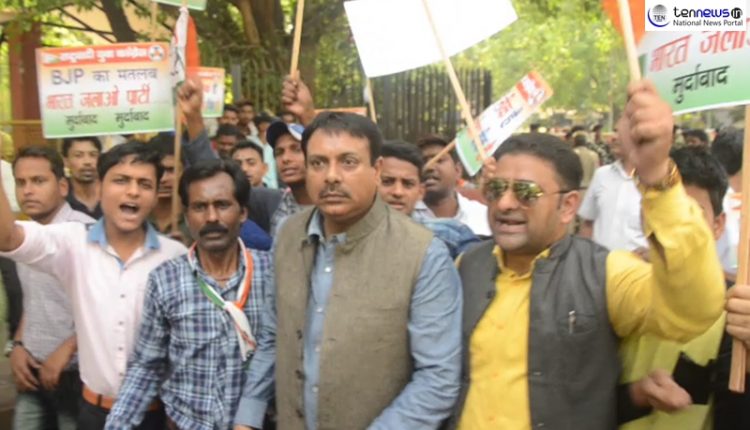 New Delhi: On Tuesday, Nationalist Congress Party"s youth wing organized a Parliament March and peaceful demonstration with 500 workers under the leadership of Tariq Anwar, M.P. (LS) and General Secretary, NCP and Rajeev Jha, National President, NYC to highlight the failures of PM Modi led BJP government on each and every front after 4 years of governance.
The protesters said that Narendra Modi government has been high on promises but low on delivery to the people of the Nation.
"Modi Sarkar has proved to be a govt. of giving only bhasan (speeches) and aswashan (assurances). The BJP govt. has completed 4 years in office this year, which is a fair amount of time to critically examine the track record of this govt. Despite of promises made in 2014, the track record of the Modi govt. in key areas is totally unfilled", one demonstrator claimed.

Speaking to Ten News, NYC National President, Rajiv Jha Said, "The Nationalist Youth Congress wanted to create awareness among the people of our country that our present government has failed immensely in fulfilling its promises made to the nation and has proved itself to be a mere failure in providing security safety, jobs, sustainability for farmers, protection of wealth, national security, protection of SC/ST and Minorities, bringing back our money stored abroad under the name of black money. The citizens are feeling cheated as the govt. has merely gone back on its words and has not delivered as it promised to all of us".
"We want to bring in a change through this rally and pass on a message to the govt. that we will not remain numb as we want to be given what is promised to us. NYC is going to start a nation-wide agitation & protest against the Modi govt. & highlight their failures", added Jha.