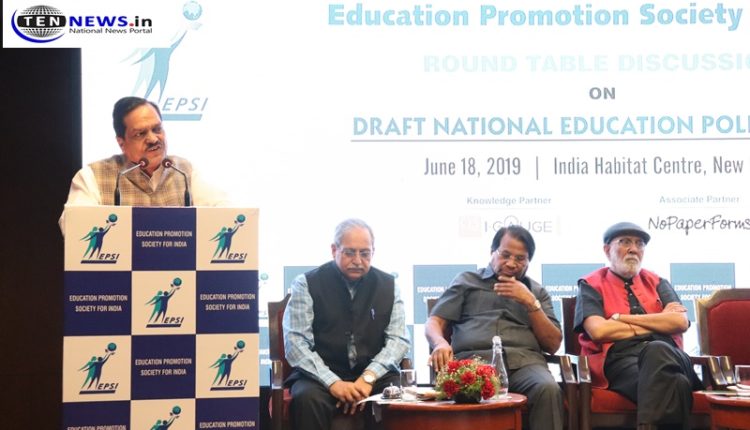 "Need 1 million research-driven faculty every year", Says P K Gupta, Sharda University Chancellor at EPSI Roundtable
Saurabh kumar

Greater Noida: Education Promotion Society for India (EPSI), on Tuesday, held a roundtable discussion on "Draft National Education Policy 2019″, and also Felicitated Members of Parliament, who are educational entrepreneurs and have done stupendous work in the area of the education sector.
Dr. T. R. Paarivendhar, MP, Perambalur, Tamil Nadu; Prof. Achyuta Samanta, MP, Kandhamal, Odisha; Dr. S Jagathrakshakan, Arakkonam, Tamil Nadu; Krishna Devarayalu Lavu, MP, Constituency, Narasaraopet; A Ganeshamurthi, MP, Erode – Tamil Nadu were felicitated by EPSI on the occasion.
Sharda University, Chancellor, P K Gupta Thanked EPSI for organizing the Round Table and honouring him. He shared his thoughts on the education sector and also on the 'Draft National Education Policy 2019' and said, "More than 20 years and personally, I have discussed this matter several times before parliamentary committee. We were treated like devils in public life and whichever government comes they only aim to please the voters."
"New education policy is very good and projected as the policy is giving us autonomy but silently they spank and curtail the autonomy. Bill was passed in Uttar Pradesh after which 27 universities came out and everything is doing very well. But from last year government came up with certain regulations like fee regulation committee, annual inspection of the universities, the governing council needs three members from the government."
"Our Prime Minister wants us to be research driven but we were not allowed to take proper charges from students. In this state, it's not possible to develop the infrastructure that is needed to develop research-driven education. Many of the engineering colleges got shut down because of the same reason and now their faculty lost their jobs and their families are suffering," he said.
He further added, "The biggest problem is finding good faculty, the new education policies have to address this problem that how can we get a million teacher every year who are overseas trained and provide a research-driven education or we should have funds so we can invite foreign professors to change the teachings pedagogy."