Greater Noida, 9th August: On Saturday, Galgotias University organized a virtual round-table meet to discuss the recently announced New Education Policy 2020.
Some of the top stakeholders of the education industry participated in this virtual meet including Dr. Anil Sahasrabudhe, Chairman – AICTE; Dr. Vinay Kumar Pathak, VC – AKTU; Dr. R.K Shevgaonkar, VC – Bennett University; Prof. U.B Desai, Former Director – IIT Hyderabad; Shobha Mishra Ghosh, Asst Secretary General – FICCI; Ar. Habeeb Khan, President, Council of Architecture; Dr. Ganesh Natarajan, Former Director – NASSCOM; Yudhistir Yadav, Head – Strategic Initiatives Future Skills, a NASSCOM Initiative; Rajan Verulkar, Former VC – University of Mumbai; Prof. Arun K. Pujari, VC – Central University of Rajasthan; Dr. Sunil Rai, VC – University of Petroleum and Energy Studies; Renu Chaturvedi, Director, DPS Greater Noida.
The panelists were welcomed and hosted by Galgotias University Chancellor Suneel Galgotia, CEO Dhruv Galgotia, Vice Chancellor Dr. Preeti Bajaj and Advisor Dr. Devi Singh.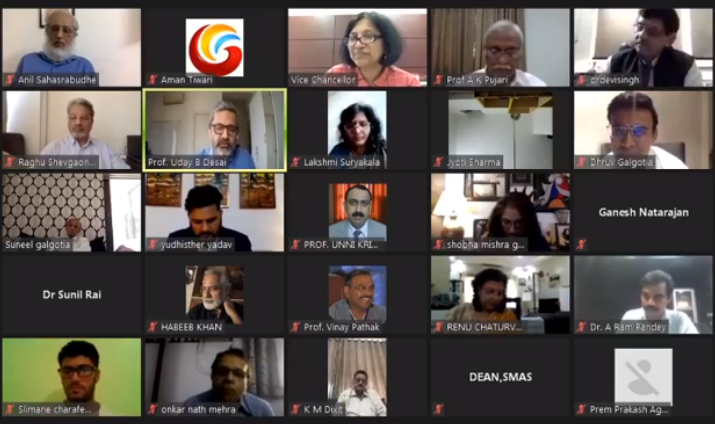 When asked about inclusiveness in education, Dr. Sahasrabudhe said that inclusiveness from gender diversity angle has been improving as a rapid increase in girl students opting for higher education has been recorded in past 10-12 years.
Though inclusiveness in terms of accessibility for physically challenged students remains a challenge. "AICTE has been very strict and rigid in this matter as we do not give approval to those institutions who lack arrangements for accessibility for physically challenged students."
The next challenge in terms of inclusiveness is digital connectivity as many students in rural areas either lack digital devices or they have a poor or no internet connection.
Prof. U.B Desai, said that NEP is extremely forward looking policy document with lots of great recommendations. The good thing is that many of the ideas have alredy been practiced at institutions of national importance.
Prof. Desai though also expressed his disappointment for the document not including any revolutionary steps. "I wish the report had gone lot further than what it has."
He also expressed his concern for the report not including the global challenge of climate change in school education.
On affiliation model in higher education system, Prof. Desai said that the affiliation model will be gone by the year 2035 which is a good thing as we need to give more autonomy to colleges to innovate, currently there is overregulation.
Prof Vinay Pathak, on affiliation model, said that it is good that we are moving towards autonomous colleges, but the autonomy comes with accountability.
"Once we are making colleges autonomous, the accountability has to be graded very carefully in those systems."
Dr. R.K Shevgaonkar said that education should be treated on par with the national security and no compromises should me made with it.
On research in India, Dr. Shevgaonkar said that one suggestion which is being made is that not only the government institutions but also the private institutions will be funded on a merit basis. This is a strong recommendation.
"In India, only 15 people opt for research out of 1 lakh, In US 800 people opt for research out of 1 lakh."
On financial model for education, Dr. Shevgaonkar said that the policy has still not given a sound financial model for the education in this country. The policy says that the education has to be based on philanthropy, but what if the institution is not able to survive on philanthropy and starts making losses.
"The financial model has to be much more robust, creating a cheap model is not the solution. The challenge is to create more financial avenues so that accessibility is increased financially without compromising on quality."
Habeeb Khan said that the success of the policy, apart from the implementation, is also within our minds and own self where we need to introspect.
"The essence and spirit of the policy will have to be understood by the entire academia, if we try to circumvent and try to find ways for our immediate gains then the policy will fail."
Suneel Galgotias said that this policy, with sweeping and holistic changes, has the potential to make India a global knowledge superpower.
The new policy offers positive changes such as flexible and multidisciplinary approach with more focus on arts, humanities and vocational and soft skills.
Dhruv Galgotias said that one of the biggest transformational features of this policy is the use of mother tongue as the medium of instruction at a primary level. All the top 20 countries in terms of gdp use their mother tongue as medium of instruction in education.
Another important addition is the introduction of coding from class 6 onwards which will develop a strong foundation and build logical and analytical skills along with building a keen interest in computer science.