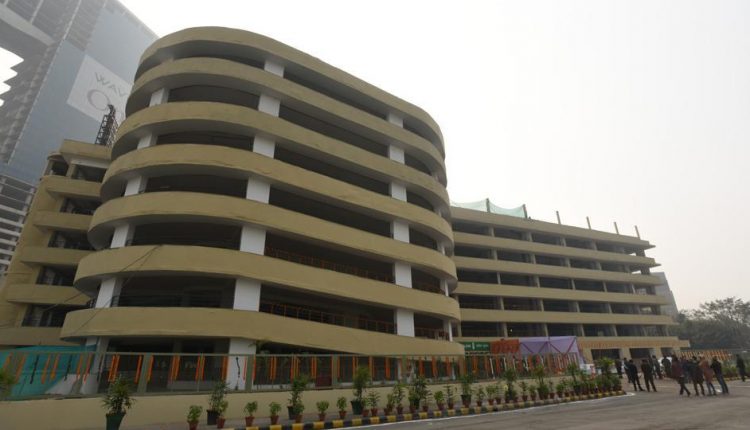 Noida Sector 18 Multilevel Parking Issue : Is it a boon or a curse? Traversing both sides of the coin
Ten News Network
(16/04/2018)
Noida sector 18 multilevel parking was inaugurated in January this year. This much awaited project was delayed for years and all that time, a lot of organizations and individuals demanded its earliest inauguration. However since after it has been inaugurated, it has become an issue of debate and discussions among many, people have been divided over its usage and many questions have been raised on its pricing model.
The multilevel parking lot has space for 2,800 cars and 250 two-wheelers and is meant to relieve the pressure on the parking lots in the Sector 18 market.
Price vs Quality of Service:
Surface parking lots previously charged 20 rupees for about 14 hours. However this cheap cost parking also came with a very laidback attitude of parking attendants and utmost carelessness. While brawl and congestions were common, it also resulted in fatalities. In November 2017 itself, a pregnant lady succumbed to her injuries after being mowed down by an erring parking attendant at one of Sector-18 surface parking areas.
Since after the opening of Multilevel parking, surface parking rates have been revised to INR 20 per hour whereas inside the Multilevel parking it is Rs30 for first two hours and 10 for every extra hour thereafter.
At the time of opening of multilevel parking, it was claimed that charges have been kept so in order to maximize usage of multilevel parking and therefore reduce the load on surface parking areas, in turn to reduce congestion.
However sector 18 market shopkeepers claim that it has been done to benefit the nearby mall and decrease the footfall in sector-18 market. Some also attribute this disparity as an attempt to gradually destroy the sector-18 market which is the major shopping hub of Noida.
Sector 18 Market association president SK Jain says, "First two months of parking given to DLF was seems to be trial period and we were promised for everything to be managed but nothing done on management part of parking more to this MLP is still not fully completed. Now after more over two months N A does not listen to revise rates of parking and everything is mess".
Quoting his demands he further adds, "Our only demand is to revise rates to previous one or in comparison to parking charges of Malls . The N A gives examples of Delhi rates and could not provide public transportation like Delhi.
This is Corporate organized verses unorganized business fight. Corporate wants to capture business of unorganized business of sector 18 and NA officials are supporting them".
The competition debate
On condition of anonymity another learned individual however contradicts these charges and says, "Sector-18 market has showrooms and restaurants that have survived and bloomed for so many years even after having two major malls in close vicinity and present fear is unjustified. Does market owners say that all these visitors came here just because of cheap parking charges. This is an upmarket area and people shopping here are not really bothered about parking prices and more about quality of services".
He further adds, "Large numbers of visitors to this market also come by Metro for whom it is much easier to travel to sector-18 market then to any of the malls. Also how can malls compete with sector-18 market as a large part of this market has so many jewellers, and how many jewellery shops does DLF Mall of India have? This concern of killing competition is not true".
Indeed not everyone is convinced.
When we visited the multilevel parking yesterday we found that the parking on two levels are being fully utilised. The people were approaching the parking freely and parking their vehicles with ease.
It was also learned that the 2 basements of the parking would be operational within a week. When we discussed the issue at hand with a shopper who has parked his vehicle their he said, "People wants to use the parking, but does not want to pay parking fee. If the business of traders is really going down, what prevents them from reimbursing the parking charges of Rs 20 or so paid by the consumer who has made a purchase from there? Many shops in the DLF malls routinely do it".