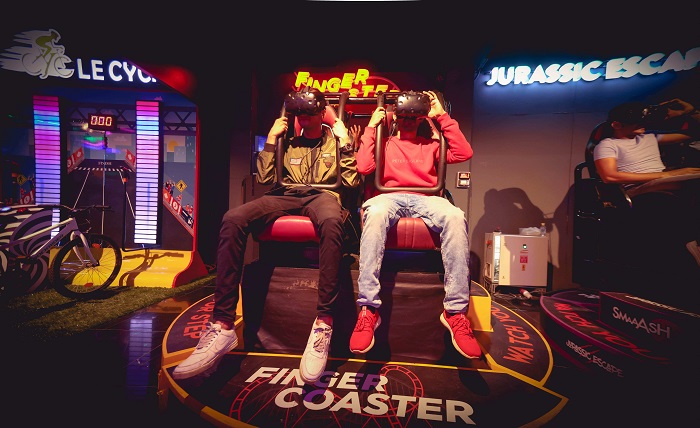 Noida's Ultimate Entertainment Arena – SMAAASH to be launched at DLF Mall of India
SMAAASH is one of India's acclaimed gaming and entertainment centers that brings together sports, virtual reality, music, and dining into an interactive and innovative social experience for family, friends, and children. After a hiatus of almost a year and a half, Noida is in for a treat. SMAAASH is all geared up for a launch and is back at the DLF Mall of India with 60 new games including arcases, virtual reality and their signature popular games like bowling and cricket.
Inviting all connoisseurs of virtual reality based gaming to savour the unique experience that SMAAASH has to offer. The outlet is all set to launch on the 23rd September,2021.The experience is going to be an immersive, evolved, interactive and innovative social experience for family and children by recreating those memories.
Launched almost a decade ago, SMAAASH seamlessly ties Bowling, VR gaming, sports, partying and dining all into one passionate affair. With the agenda of providing entertainment to all ages, SMAAASH has something to offer to everyone. The center is open for children and adults alike, thus giving parents and kids a chance to bond and get some outdoor action in a covid compliant space after being indoors for more than a year. The romantically lit twilight bowling arena is a mood in itself. Enjoy some finger licking food while you get competitive with friends and family aiming to dash those bowling pins in style at the bowling alley.
Owner of SMAAASH, Shripal Morakhia, says "Redefining sports entertainment and customer engagement with ground-breaking innovative ideas and novel dining concepts, SMAAASH has something for everyone and anyone of any age making it a perfect destination for "kids of all ages". We are happy to be back and bring the city a never seen gaming experience with fresh concepts, powerful simulative technology and innovative design. We hope to bring back the smiles again with our unique and aspirational experiences.