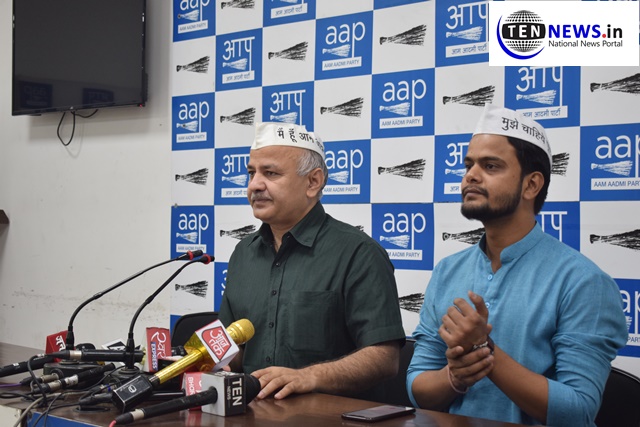 "Our single agenda is to stop Modi-Shah duo from winning, Congress deliberately wasting time": Manish Sisodia
Talib Khan / Jitendra Pal
New Delhi, (13/4/2019): Today, Deputy CM Manish Sisodia held a press conference in New Delhi. In his briefing he said, "his party is still ready to form an alliance with the Congress in Delhi, Haryana and Chandigarh but the Congress party is wants the tie up only in the National capital.
Further he said, "the focus of the Aam Aadmi Party is to stop the Narendra Modi-Amit Shah duo from winning the elections and ruin the country. We wanted to form a united opposition against the BJP and we are ready to ignore our differences because right now the priority is to stop the dangerous Modi-Shah duo".
"In last one week, meetings were held between the AAP and the Congress and we proposed alliance on 33 seats in Delhi, Goa, Chandigarh, Haryana and Punjab seats, out of them 23 seats is with NDA. But the Congress purposely wasted time to take a decision on alliance and now it says it can tie up with the AAP only in Delhi. Forming an alliance in Delhi alone would not solve the problem".
"We still saying that an alliance can be formed in Haryana, Delhi and Chandigarh if they are ready then we are ready too but alliance cannot be done alone in Delhi", he added.
The uncertainty over alliance between the AAP and the Congress has been continuing for weeks now. The Aam Admi Party led by Arvind Kejriwal seems to be clear in their approach towards the alliance, but the Congress party desires something else due to which the alliance is derailing.