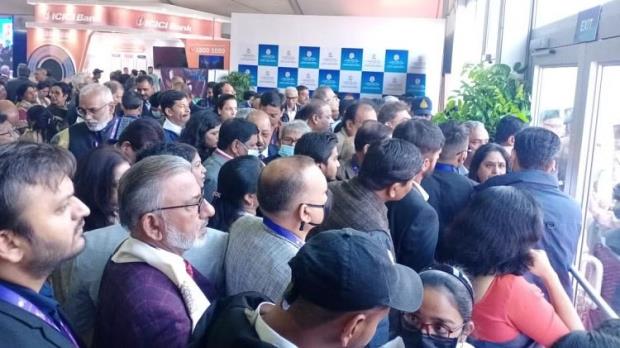 Overcrowding, confusion marks Pravasi Bhartiya Divas in Indore, NRIs outraged
Ten News Network
Indore (Madhya Pradesh) 10th Jan 2023: During PM Narendra Modi's inaugural event in Indore on Monday, confusion reigned when dozens of NRIs with valid credentials were denied access into the main hall of Brilliant Convention Centre as the number of visitors allegedly exceeded its seating capacity of 2,000.
When police partly opened a barrier to enable some NRIs to enter the hall, a stampede-like situation ensued. As the mob pushed and sought to squeeze through the tiny opening, several were injured, and yells of pain were heard. This was captured on video and quickly went viral. A 58-year-old NRI from Mauritius was taken to the hospital after fainting, while another delegate collapsed and damaged his forehead.
As the crowd grew, more than 500 individuals were pushed into the registration area and instructed to watch the event on enormous screens. NRI delegations from the United States, the United Kingdom, Jamaica, Mauritius, Qatar, and numerous other countries were annoyed and outraged. "We have paid to attend the event and flew down for it. This is insulting," one delegate stated.
Even members of the media had difficulty entering the venue. Many people were blocked at the gates.