Overwhelming response to RK Mohapatra's new book on Retirement Planning By Bipin Sharma

Financial expert RK Mohapatra launched his new book titled "Retirement Planning" on June 8, 2016 by presenting a copy of the book to Dr. Mahesh Sharma, Minister of State (Independent charge) Culture & Tourism and Civil Aviation. The Minister while lauding the painstaking efforts of the author, emphasized on the relevance of being mentally prepared for the inevitable retirement stage of life so as to efficiently plan the future.
The book in meticulous introduction running in to 252 pages and nine chapters is a simple guide for individuals that describes the topic of retirement plan for individuals along with future growth of financial products in India. The book reflects and focuses on an individual's retirement need, corpus for retirement, and use of created corpus after the superannuation. In the book, author Mohapatra has elaborately explained with well-researched analysis and analytical calculation on how to accumulate retirement corpus during the pre-retirement period besides educating readers about ways to preserve the accumulated corpus during the preservation stage, and thus get the desired post –retirement expenses during the distribution stage.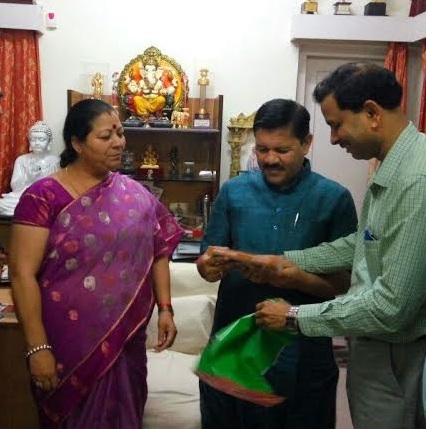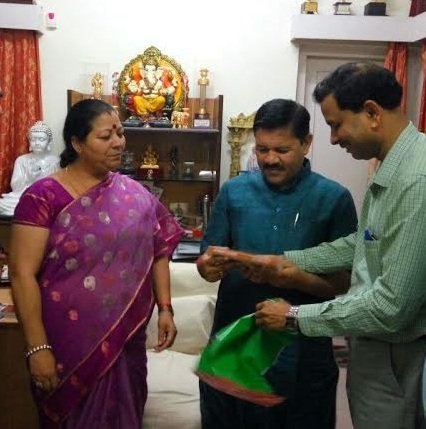 Working as the Joint General Manager of Finance at Ircon International Ltd (A Govt. of Indian Undertaking), Ministry of Railways, CMA Rabindra Kumar Mohapatra (RKM) has approximately 25 years of vast experience in the field of finance in India and abroad. He has participated in many training programs and workshops in all these years of his illustrious career. Besides his financial acumen, the accomplished author is also a philanthropist and an activist in his own right, and this is what sets him apart.
Despite a hectic work schedule where he has to adhere to stringent deadlines and targets, Mohapatra has effectively managed time to pursue his passion for authoring books on relevant financial matters pertaining to the problems and queries of the common man. He got inspired to author his second book buoyed by the success of his first book titled "Investment… Risk & Growth-A Guide for Investors about Investment Vehicles" which was a bestseller.
On a comparative note, while his first book launch was a low key event, Mohapatra's keenness for propagating the crucial message of his new book to a much wider audience stirred him to go to different places for personally presenting a copy of his book to eminent personalities. At key forums too, the author presented a thorough analysis of his book so that general public at large could reap the larger benefit from his book.
Following the book presentation to Dr Mahesh Sharma, Mohapatra's next stop was at BJP's National Vice President Shyam Jaju's office where he was accompanied by noted women's rights activist Sudha Bhardwaj. The BJP leader congratulated the author for assiduously bringing to fore the vital facts and figures pertaining to investment, savings and overall judicious financial planning.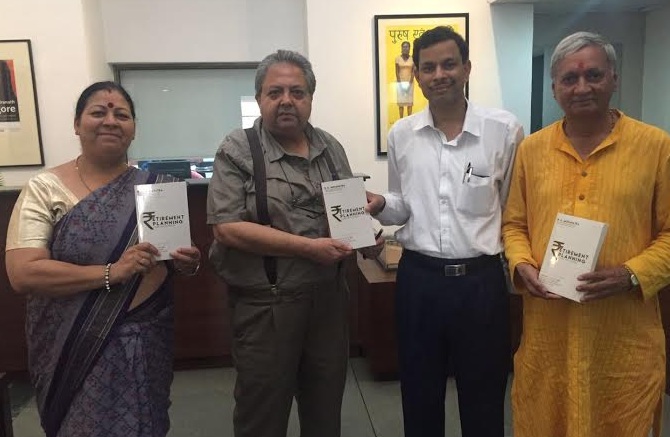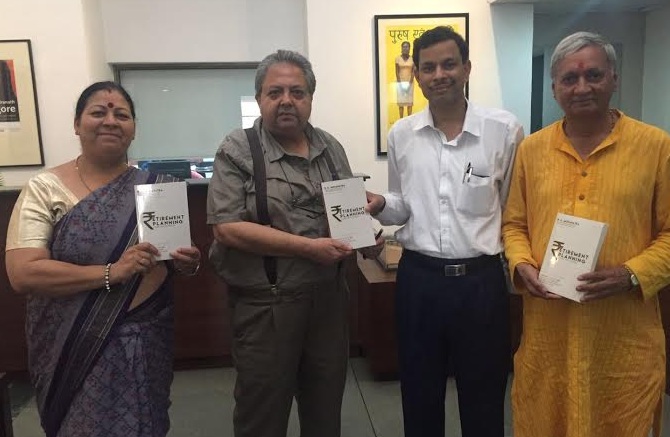 Says Mohapatra, "In the present day scenario, everyone needs to be educated on the various essential aspects of financial planning needed to be undertaken at an early stage of one's career for financially and emotionally securing the post retirement stage of one's life. Educating the young earning segment on the finer nuances of financial planning and saving's make great sense and is no less than rendering a noble service to the nation. The key objective of my new book is to advise people on how they can live like a King for the rest of their lives by making meaningful decisions. I have emphatically conveyed through the book that every individual has the potential to take concrete decisions and the relevance of focusing on specific goals to achieve them in time. It is imprudent to expect immediate results from the investment as you need to give some time, and stick the return on investment. Subsequently you need to analyze it every quarterly, half yearly, or yearly. For being successful in investment, one must chose certain investment products, and then expect certain percentage of return over a period of time. As far as reforms in our country are concerned, they have taken a backseat due to political slugfests. The present government possesses a good intent to turn things around, but ironically non issues have been consuming a great deal of precious time owing to which there is gratuitous delay in execution of reforms. The economy gets a boost with more job creations. It is a matter of pride that initiatives like "Make in India", "Digital India", providing a favourable environment for the Start-up ventures have done a world of good to creating more jobs. There should be a single window clearance for the startups, and the government authorities are expected to lend a stellar support to the entrepreneurs aspiring to make a niche for themselves. The duties have to be reduced in order to make it convenient for the entrepreneurs, and subsequently the end consumers. As far as budget, reforms and policies are concerned, the two years rule of Modi government has been very positive despite the global headwinds and key macro-micro factors. There has been consistent growth of GDP from 2014 till date. The key accomplishments include improvement of government working, more transparency and efficiency, better use of government money, and fabulous CAPEX in physical infrastructures (especially Railways and roads) and a sharp increase in FDI.  The structural clean up of banking system is underway, and is going to be a time consuming process. The very fact that GDP is poised at 7.00%-7.3% growth speaks volumes about the state of affairs of the economy of the country. The focus needs to be on tax realization as that certainly makes a huge difference. The 10% increase in the state's share of revenue from 32% to 42% proves that PM Modi has lived up to his promise of strengthening the federal structure. The corporate tax has been slashed by 5% for new manufacturing companies. The wealth tax has been abolished, and instead 2% surcharge is going to be there on the super rich class. There are no retrospective tax deductions. Rather than being a populist budget, it is a more realistic and futuristic budget. As for the personal finance benefit in respect to taxes are concerned, Budget 2016 sprung a surprise by providing partial exemption to National Pension System (NPS). This meant that 40% of the accumulated corpus could be withdrawn tax free on maturity, while balance 60% corpus too remained tax free by buying an annuity scheme, wherein tax has to be paid in the year of receipt of the annuity. Budget has also given an option to withdraw another 20% of the accumulated corpus by paying tax, and to buy compulsory annuity 40% balance corpus. As part of reforms, government needs to make 'one authority' accountable and statutory for a particular colony, which gets entrusted with the job of ensuring execution of different public welfare works. The buck would then stop at this authority, thus guaranteeing an end to the practice of offering lame excuses. This arrangement will help accomplish long impending public welfare works, and eventually raise the quality of life. It is significant to point that the empowered youths can play a pivotal role in 'Make in India' campaign of PM Narender Modi as well as in Nation Building on the whole. The youngsters have to channelize their potential to the optimum and devote time towards the development and welfare works at both the micro and the macro level. The success of 'Make in India' campaign largely rests on the shoulders of the youth of the country. If the youths are empowered, they can help the country realize its mission in almost no time. Skill Development will pave the way for Youth Empowerment. The passing of Goods and Services Tax Bill (GST) would unquestionably be a watershed moment in the reform of indirect taxation in India as it will be the biggest indirect tax reform since Independence."
It was his deep rooted interest coupled with his profound knowledge on diverse subjects such as financial planning, budget, Insurance, Will, Digital India Campaign, GST Bill,  provident fund, mutual funds, economic reforms, taxation, etc that inspired Mohapatra to wear the hat of an 'author'. Mohapatra feels that authors render a great service to the humanity when they are able to impart and share their vast knowledge and sustainable solutions with masses. A good author according to him is one who knows how to astutely convey the larger than life message through their books. Whether directly or indirectly, the books should be embedded with a theme that can sustain itself over generations so that they don't become obsolete with passage of time.
In his maiden endeavour as an author of the book, "Investment… Risk & Growth-A Guide for Investors about Investment Vehicles", Mohapatra was able to strike an instant chord with the readers, as a result of which the book became a 'bestseller'. Published in April, 2013, by Highlife Solution, New Delhi, Mohapatra was naturally overwhelmed by the response that his book evoked. This book comprising six chapters is a Guide for Investors about Investment Vehicles and elaborately describes the topic of financial planning for an individual along with future growth for financial product in India, which also reflects an investor's perspective on handling his or her hard-earned money carefully through proper investment planning.
The author has elaborately described the market trend, Risk-return of the investment product, Market behavior and individual behavior in different situations, impact of debt fund and investment in tax–efficient products. Logical examples in different chapters are there to elucidate how Investment through SIP ensures disciplined investment regardless of the volatility of the market movement, and further how it helps an investor average his cost through market cycles for creating a big corpus to achieve their goals sans taking too much risk in the long run.
Other prominent personalities that Mohapatra presented a copy of his new book included Prof Rajeev Lochan, Director of National Gallery of Modern Art (NGMA), Ministry of Culture, Govt of India), popular Bollywood actress Ashima Sharma, Dr RK Tuli, Global Pioneer of Holistic Medicine and Founder of SOHAM, and Architect Anurag Khandelwal of Consulting One to name a few.
The book launch party was hosted by entrepreneur Sanjeev Puri at the Holiday Club, Panchsheel Enclave, New Delhi which saw a good attendance of Mohapatra's close friends and colleagues. The book reading session took place at SOHAM, New Friends Colony.
(Mohapatra was conferred the "IRCON Managing Director award" in the year 1998 for his meritorious work. Besides his financial expertise, his contribution towards social and religious fields is equally commendable)
As far as his academic credentials go, Mohapatra is an Economic (Hons) graduate from Utkal University- 1983 batch. Subsequently, he secured a position in Cost & Management Accountant (CMA) course in the ICAI of Kolkata-1988 batch. He earned an MBA Finance in 2007 from Sylhet, a top ranked University. He is also a fellow member of Institute of Cost Account of India (ICAI).
RK Mohapatra can be reached at: rk.mohapatra.as@gmail.com