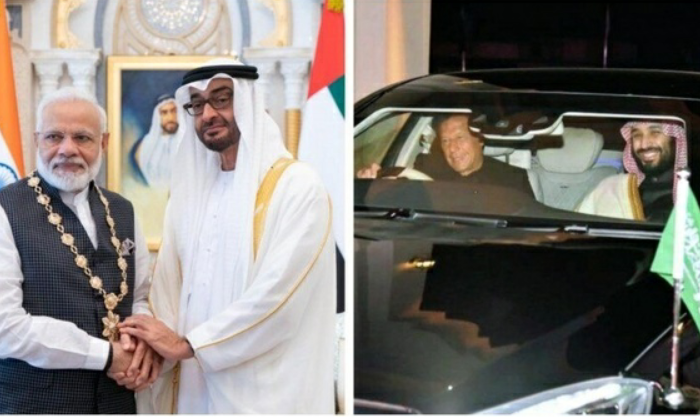 Diplomatic war is more dangerous than the actual battle. In diplomatic war, the opponent is dead without any bullets being fired from the gun.
This has irked Pakistan more with PM Modi receiving the UAE highest honour. UAE is one of the most important members of OIC (Organisation of Islamic Corporation). They gave their highest honour to Modi representing the views of OIC for Modi on the world platform.
Pakistan till now has consistently accused Modi of violating human rights in Jammu and Kashmir and even linked the Modi government to Nazi Germany. They had blamed Indian government for working against muslims while projecting Kashmir issue, but has failed to project Modi as anti-muslim across the world even among the Islamic countries.
This is the same Imran Khan who personally drove Mohammad Bin Salman in a Mercedes Benz to his official residence in February for a bailout package to save their economy from crisis. Pakistan has created a mockery of itself and made themselves a global laughing stock in the eyes of their people.
Take a look at the awards our PM has received from Islamic Countries, this is a significant setback for Pakistan as it puts India ahead of Pakistan diplomatically among their own Islamic Countries to which it considers as best friends.
The King Hamad Order of the Renaissance, Bahrain – August 2019

Order of Zayed, UAE's highest civilian award – August 2019

Grand Collar of the State of Palestine – February 2018

Amir Amanullah Khan Award, Afghanistan – June 2016

King Abdulaziz Sash Award, Saudi Arabia – April 2016

Rule of Nishan Izzuddeen, Maldives – June 2019
There have been voices inside Pakistan of being frustrated and left alone on Kashmir, and their leaders are lashing Imran Khan and Quershi for failing miserably. 
The growing support for Modi from muslim allies is the real cause of worry among leaders of Pakistan. UAE has already supported India by stating article 370 to be an internal matter and Kashmir to be a bilateral matter between the countries, India and Pakistan.
Hopefully, Pakistan will eventually accept the truth of India's importance across the world and instead of propagating India every time start working towards the development of their country and economy, which is on the verge of becoming bankrupt.
Pakistan has only been witnessing failures all along, first they failed at borders, then failed before UNSC and now failed among their sympathizers. Soon,they will understand that it's new India which is neither going to stop nor going to be tired.