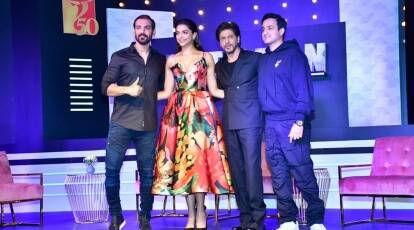 Pathaan cast speaks to media on film's blockbuster success, shares personal experiences
Ten News Network
Mumbai (Maharashtra), 31st Jan 2023: Shah Rukh Khan, Deepika Padukone, and John Abraham, along with director Siddharth Anand, recently addressed the media to celebrate the success of their latest film, Pathaan. The film, which was released on January 25, has already fetched a whopping ₹542 crore worldwide in just five days. The media interaction was a celebration of the film's success and the talent of the lead actors.

Shah Rukh Khan, who is known for his wit and charm, shared a special message about his Sunday ritual with fans at Mannat. "My elders told me if you are sad, go to the people who love you. I am lucky to have millions of people who love me, and when I am sad, I go to my balcony, when I am happy I go to my balcony. God has blessed me so much that he has given me a permanent balcony ticket," he said.
John Abraham, on the other hand, had nothing but praise for Shah Rukh Khan. "I don't think he is an actor anymore, he is an emotion. I nearly went to kiss him in many scenes… Earlier I felt like I was an action hero, but I think Shah Rukh Khan today is the number 1 action hero of the country," he said.
Shah Rukh Khan, in turn, praised John's role in Pathaan. "I genuinely feel that the backbone and best thing about Pathaan is Jim, played by John. John ho picture me lo toh kapdon ka kharcha bhi kam aata hai, (when John is in the film, the cost of clothing is also less)," he said jokingly.
The media interaction was filled with laughter, praise, and emotions as the team behind Pathaan shared their thoughts and experiences about the film. The success of the film is a testament to the talent and hard work of the cast and crew, and it is clear that Pathaan will go down in history as a classic in Indian cinema.