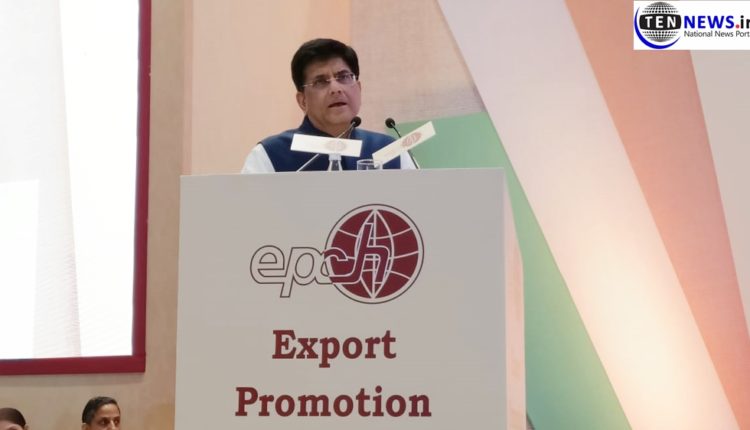 Piyush Goyal presents Handicrafts Exports Awards organised by EPCH
Ten News Network
New Delhi (28/06/2022): Union Minister for Commerce and Industry, Piyush Goyal on Tuesday handed over prestigious Export Awards to high performing individuals from the handicraft industry.
The 23rd edition of these prestigious awards was organised by Export Promotion Council for Handicrafts.
Darshana V Jardosh, MoS Textiles also graced the occasion along with UP Singh, Secretary (Textiles), Rakesh Kumar and other key dignitaries.
The event begin with a soulful recitation of Sarswati Vandana, invoking the blessings of the Goddess of Knowledge for all her disciples.
Rajkumar Malhotra, Chairman, EPCH delivered the welcome address and talked about the contribution of handicraft exporters in strengthening country's economy.
He said, "These awards are being to exporters who have excelled in different kind of product categories. A total of 126 awards are being given in different categories. Due to Covid delaying previous editions of the award ceremony, this year Export Award for outstanding export performance for the year 2017-18 and 2018-
19 are being given to 126 exporters. These awards include 39 Trophies, 3 Platinum Performer Certificates, 72 Merit Certificates, 11 Women Entrepreneurs and 01 Special Commendation
award."
"EPCH was the first organisation which held first physical show for all handicraft exporters at India Export Centre and Mart. I hope that today's award will motivate the whole export fraternity to achieve even bigger goals, " he added.
Thereafter, addressing the gathering Textile Secretary congratulated the export fraternity for their contribution even during the pandemic. "Handicraft industry is our pride. Even our Prime Minister Narendra Modi always prefers handicraft products to gift to various international dignitaries during his meetings with them," said Secretary Singh. He also urged the export community to ensure that benefit of these export promotion should reach to the artisans working on the ground.
MoS Textiles Darshana V Jardosh lauded EPCH for organising such great event for handicraft exporters. Minister Jardosh said, "The support of Handicrafts community in spreading the culture and identity of India culture globally is truly appreciable. Moreover, EPCH through its exhibitions uplifts and promotes not just the export community but also local artisans and handicraft manufacturers."
Thereafter, Union Minister for Commerce and Industry Piyush Goyal addressed the fraternity of exporters and said, "These awards will work as a motivation for the winners but will also encourage other members to strive for excellence and win awards in coming years. I congratulate that even though the pandemic delayed the award, EPCH worked hard to select winners in a non-partisan and transparent manner. I hope that the awards for the other pending years are also given sometime in this calender year so that the gap is fulfilled and these are again regularised like before."
"Handicrafts have been a unique identity of India for ages and centuries. However, for last 30 years the work of EPCH is promoting the industry has been very laudable. Today, I'm seeing many young entrepreneurs here, which fills me with hope of even brighter future. I also urge the younger generation to bring new ideas to even further benefit the export community and more popularise our Indian handicrafts globally. The possibilities are endless. PM Modi himself is working as the global brand ambassador of Indian Handicrafts by using such products regularly and also using such products for gifting to international leaders," Minister Goyal said.
Thereafter awards were presented to the winners of the 13rd edition of Handicrafts Exports Awards.
Dileep Baid, Vice-Chairman, EPCH delivered the vote of thanks.