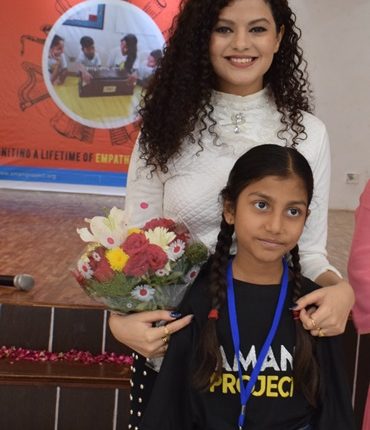 Playback Singer Palak Mucchal Joins Amani India Project – Igniting empathy through music for Underprivileged Children!
New Delhi: The Amani India Project partnered with Yale Centre for Emotional Intelligence to weave their programme into music making curriculum, was launched in New Delhi by Smile Foundation and Children in Harmony.
An initiative through which children learn to identify, comprehend and manage their emotions through music – the project brought together teachers, student mentors, and school children. Continuing till the 12th of October 2018 at the MP Club, South Avenue, New Delhi, the project focusses on music theory, music practice and its association with emotional intelligence training. Palak Muchhal, celebrity playback singer, attended the event and actively trained, guided and collaborated with the young artists adding value to their different song compositions.
Talented Playback Singer Palak Muchhal, Exclusively Speaking to Ten News said,
"I'm Really Happy and Amani Project is really a very unique concept. I personally feel in my life that music is not only just a Art, not only just a hobby or a Profession. It's a super power through which you can actually save life's."
 Seema Kumar, GM- Programme, Smile Foundation Speaking on the occasion with Ten News said,
"The event centred on enabling students to learn the basics of music making – beat, rhythm, tone, dynamics, and pitch while establishing an emotional connect with the same. When they combined all of their new understanding through project-based learning, true transformation began to take place. Activities include dice-breaking sessions, jam sessions, song composition and practice sessions, working with mood meters, performing to the different songs and group recitals."
Andrew Lewis, Program Director for Children in Harmony speaking to Ten News said, 
"We are thrilled to be partnering with the Smile Foundation for this initial phase of the Amani Project. The objective is to enable these new student leaders to go home, open their own Amani Project clubs and invite their friends to learn about emotional intelligence and making music. We have started in Delhi this year and will be expanding across India in the years to come."