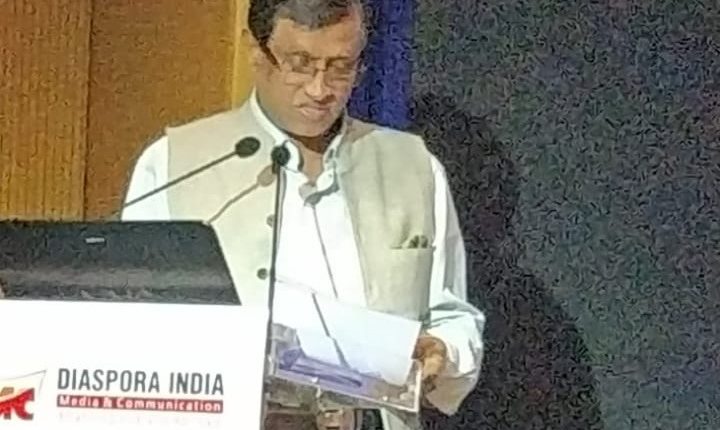 New Delhi, January 15: "India has a growing AI domain expertise in which the Indian Diaspora can expectedly perform well. Solar energy is also a rapidly growing sector for our growth and we will discuss these topics at the PBD Varanasi. The participants will be taken to Varanasi for PBD onto Kumbh Snan, and thereafter to national capital for participation in Republic Day parade on 26th of January as well," said Ambassador Dnyaneshwar M. Mulay, Secretary (CPV & OIA), Ministry of External Affairs(MEA), Government of India,  while addressing a power-packed gathering of intellectuals and thought leaders from India and some of the other countries in New Delhi on January 14, 2019.
Opening the program, Pooran C.Pandey, Managing Project Director, DOC India (//doc-research.org/author/pooran-chandra-pandey/), a Berlin-based Global think tank and founding  Chairman, DIMC said, " We are now situated in a context where we as a nation would like to find concrete ways and means to leverage Indian diaspora for nation's deployment of its soft power in a fast-changing geopolitical ecosystem. USA, UK and  China did it well and we may have some lessons to learn from these countries while building on our specifics based on value systems and principles of equity, equilibrium and democratic principles".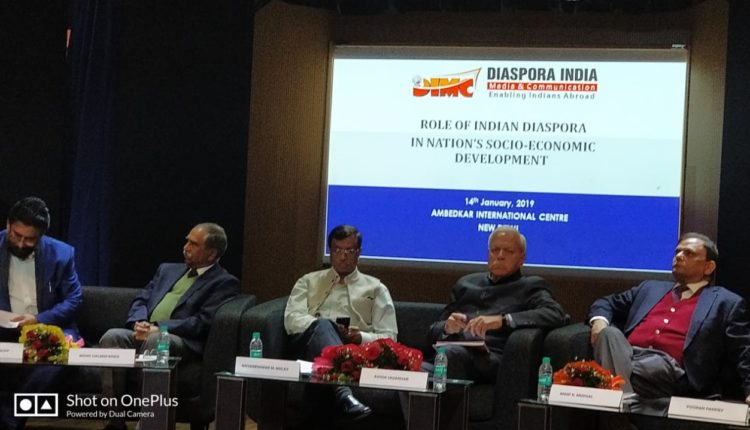 The event was organised by Diaspora India Media and Communication (DIMC), which came into existence in 2013 with the aim of becoming a bridge between Indian diaspora on the one hand and the government at the centre and the states levels on another. The theme of the high powered panel discussion held at the newly built Dr. Ambedkar International Centre, Janpath, New Delhi, was "Role of Indian Diaspora in Nation's Socio-economic Development."
Welcoming the guests on the occasion, Onkareshwar Pandey, Founding Managing Trustee, and Editor in Chief & CEO, Indian Observer Post said, "The Diaspora India Media and  Communication (DIMC) endeavours to become the voice and supporting hand of Indian Diaspora and to provide them all possible required support and recognition in India. In the last five years, DIMC has worked on the ground, creating its network and since has established its presence in 20 states of the country. We plan to cover the entire country, including at the district levels in due course of time". He further added, "Most of the members of DIMC are educated and come from various walks of life, having a good network in their own states and cities. They are in a better position to provide needed support to our brothers and sisters of Indian Diaspora as and when required"
Speaking on the occasion, the Chief Guest Ambassador Mulay said, "We will be having some interesting announcements being made in Varanasi. Prime Minister Narendra Modi himself is expected to make some important announcements during the PBD, being held at Varanasi from 21st of January."
"Our Diaspora, in terms of strength, is vibrant. Communication plays an important role. We don't have many experts to talk about issues and matters related to Diaspora. Currently, many Indians who have done well abroad still do not feel comfortable. Slowly things are picking up, but still more can be done to be much more effective," Secretary Mulay added.
He further noted, "My own observation from the past few decades has been that we are vibrant because we are democratic, we are far more vibrant than the Chinese. We should not compare ourselves only on the basis of GDP. Already the way we have established ourselves as an economic power is amazing. Hard work and law-abiding nature of Indians set them apart from the rest. The biggest global companies have Indian CEOs. In my own view, India doesn't get much out from any person who goes outside of India."
"Today evening is very significant that we are moving in the right direction. I'm really delighted to be part of this journey," added Mulay while addressing the gathering.
The panel discussion that followed subsequently was chaired by Ambassador Ashok Sajjanhar, Former Indian Ambassador to Sweden, Latvia and Kazakhstan, and saw the participation of esteemed panel members such as Professor (Dr.) Kamla Dutt, an Indian American and an accomplished author, Mohammad Haleem Khan, former Secretary, Disinvestment, Government of India,  Ambassador Anup Mudgal, Former Indian High Commissioner to Mauritius and Colonel (Retired) Jaibans Singh, a reputed national affairs' specialist, and an accomplished author.
Professor Kamla Dutt on this occasion said, "India is respected for its non-aggressive and holistic approach to life by any country hosting Indians. This is a good quality of us which always puts we Indians in high credentials against any other another country. Our spiritual face is key to the world to live in peace and togetherness. We should stress on these as Indian Diaspora is more connected to roots on the social value systems and spirituality of India.
Professor Dutt further added , "I feel somewhat embarrassed to be in such distinguished company, but indeed, feel very honored to be placed alongside them. I have spent over four decades in the United States, and what I can tell you, is that there are no shortcuts to achieving success. It has been a long and very satisfying journey for me personally. Americans are not quick to praise, but once you achieve your tasks and surmount your challenges in their environment, they are encouraging, appreciative and supportive. That's the kind of culture that needs to be promoted."
Md. Haleem Khan, Former Secretary to the Government of India stressed on the need to bring few practical support system and benefits to the Indian Diaspora community so that they feel more connected to the country. One time engagement in a year is not sufficient.
Former Secretary for Disinvestment, Government of India, Md.  Khan stressed that the investment coming into India is because of the greater focus on interacting with the Indian Diaspora. He used the occasion of the DIMC dialogue to highlight the fact that India continues to be the world's top recipient of remittances from its Diaspora, gathering close 79 billion dollars in 2017-18, as opposed to USD 3 billion in 1991. He said that it is a matter of pride and significance that FDI inflows into India can be expected to cross the USD 80 billion mark in fiscal 2018-19.
Ambassador Ashok Sajjanhar presented a global view of the Diaspora community and appreciated their contributions especially from the Gulf region and African region. Ambassador Sajjanhar observed that significant pie of remittances is contributed by those who are working in the blue collar jobs and not by white collar jobs. India has to build a higher credibility, trust and focus on continued engagement for serious partnership with the developed regions' Indian Diaspora, he said.
Ambassador Sajjanhar further stated, "The role and participation of the Indian Diaspora have become more significant now than ever before. Prime Minister Modi has, on his many visits abroad, to countries like the United States, Canada, and the Gulf region, has  been able to enthuse the Indian Diaspora abroad like never before. This has created space for India at the high table at all global fora."
"Prime Minister Midi has been able to energise and enthuse the Indian Diaspora in each of the countries he has visited. He has been greeted passionately. Who can forget that first-ever meeting with Indian Diaspora in New York's Madison Square Garden? India's overseas communities are growing increasingly prosperous and have emerged as a significant factor in the domestic politics of several countries, including the U.S., Canada, U.K., and others," he added.
Ambassador Sajjanhar, however, added a note of caution, in mentioning that a majority of these FDI remittances to India were coming in from the Gulf region and that there was a need for the government to look for ways to attract more investment from countries in the West, Europe and other nations where Indian diaspora continues to do well.
He also said engagement with the Diaspora should not be limited to economics alone but should be broadened further to include other areas such as culture, sports, literature and the like.
Ambassador Anup Mudgal said, "India has, over time, realised the importance of the Diaspora and set in motion in the last three to four years, several initiatives for closer engagement between them and India's own developmental process."
He particularly laid stress on engagement with Indian origin youth living abroad, and particularly the student community, which he opined constitutes a significant component of global Diaspora. Ambassador Mudgal maintained that the youth were futuristic symbols of energy, ambition, technology/skills, progress and adaptability to new ideas and values.He described the younger generation as an important human resource segment that had to be capitalised upon in meeting India's developmental challenges.
While recalling his many interactions with the Indian Diaspora during his diplomatic assignments in Mexico, Germany, Austria, Brussels, and the United States, he said he had always felt the need for the youth to be made full partners at every stage of policy formulation in the nation-building process. He said they deserve and have the right for equal participation.
Recalling his time as India's High Commissioner in Mauritius, Ambassador Mudgal said, "Girmitiya countries such as Mauritius must be considered for promoting investments. Indian businesses should be encouraged to explore investments in these countries for providing greater economic content to these special relationships. Engaging with the Diaspora, and the youth in particular, however, cannot be the sole preserve or responsibility of the government, but must necessarily also be collectively shared by wider society, he further added.
Colonel (retired) Jaibans Singh said, " his interest in the Indian Diaspora is derived from the fact that 60 percent of his extended family is settled in countries across the globe. He stressed upon the need to look into the social and emotional aspects concerning NRIs/PIOs. "We need to realise that within our country there are a large number of aged parents of immigrants, who are in various stages of depression. They have the money and built huge homes but feel socially isolated. This situation has a severe effect on their children living abroad."
Colonel Singh further opined that one reason behind the Diaspora reluctance to invest in India is their perception that Indians are not hardworking or honest enough to put their hard earned money in the country of their origin. So, they prefer to make large houses but won't spend on business ventures.
On this occasion, a book titled "Achhi Auratein Aur Anya Kahaniyan" authored by Dr. Kamla Dutt was also released. Secretary Mulay, after releasing her book, said, "I am a student and lover of literature. So, I understand the power of art, culture, and literature, which has immense potential to unite the Indian Diaspora Community."
Secretary Mulay also launched the DIMC's website www.diasporaindia.com, and said, " communication through the digital medium can be a very effective tool today as Internet has brought people closer to each other in this era of globalisation," he further added.
Earlier, Pooran Chandra Pandey, Founding Chairman, DIMC, outlined the role of Indian Diaspora in India's socio-economic development, saying, "We all know the significance of it, and, everyone has outlined as to how Indian Diaspora remits more than 70 billion dollars. The current World Bank report puts Indian Diaspora remittances to India at 79 billion dollars, which is by long sought ahead of China and everybody else."
Elaborating about the DIMC's role in the nation's socio-economic development, he said, "There are four pillars I talked about in my address that we will be taking up as a priority. First of the one is hardcore research, evidence digging, the second one is we are trying to reach and approach Indian Diaspora families which are left back in India, the third thing we are going to do is to act as a credible bridge between the Diaspora on one hand and the Government of India on another hand and also do some work on public policies front."
He also acknowledged the importance of Indian Diaspora's widespread presence around the world and its role in contributing to the development and growth of India. On this occasion, a film on the life and history of the Indian Diaspora in Mauritius, made by IGNOU, was also screened. Dr. Daljeet Sachdeva, Deputy Director, IGNOU, and director of this film, gave a brief introduction to the film.
Pooran C. Pandey further added, "The organisation also plans to recognise and reward prominent members of Indian Diaspora for their contributions to various fields both in India and abroad while undertaking seminars, webinars, roundtables and special lectures on Diaspora and related Issues."
"DIMC would also undertake publishing of special reports, surveys, expert opinions on the Diaspora issues while building outreach pathways through films and documentaries on the achievements of the Indian Diaspora," DIMC Chairman said.
The program was attended by over 100 people drawn from various walks of life including the corporate sector, civil society organisations, academia, Indian diaspora from Kuwait, Surinam, Germany, and the US.