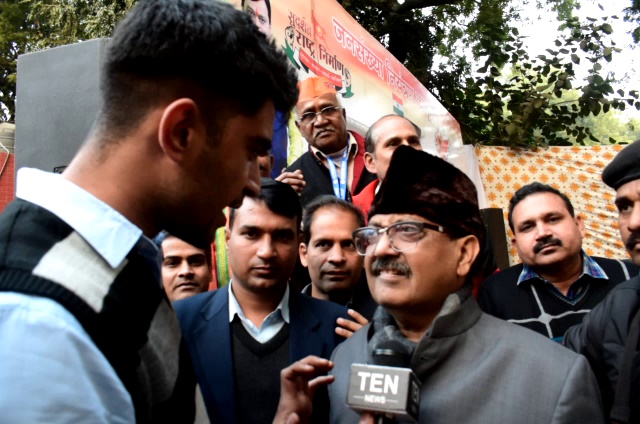 Politicians Join Hands with Rashtriya Nirmam Sangathan for Population Control Law!
Vishal Malhotra (Photo/Video) By Lokesh Goswami Ten News Delhi :
New Delhi (03/01/2019) : Population in India have a major contribution in almost every major problem in India. May it be poverty, unemployment, inflation and many other negative aspects.
Rashtriya Nirman Sangathan today organised a protest offering a new law to control population in India with a slogan that says : "Hum Do Hmare Do To Sabke Do".

The current population of India contributes to 17% of the global population. Also, all these people are unevenly distributed across 3.28 million square kilometers of our geographical area.
India's population is growing at a very fast rate. People are facing lack of space to live because of heavy population.
India is a country with large number of youth/young people which can be productive. But it is a hazard if most of these young people are not employed which is majorly happening due to the presence of people to replace them.

Manoj Tiwari also witnessed the protest and speaking to Ten News he said,
"This is a very good initiative so as to control the booming population in India. Today, there are 3-4 kids in almost every other house of India which is the major cause of this population boom in our nation. I pledge today that BJP will soon introduce this law in the Parliament."

Indian politician Amar Singh from the state of Uttar Pradesh was also sighted at the protest and speaking to Ten News he said,
"Hum do Hmare do to Sabke do, is something that should be adapted by every Indian so as to proceed towards a happy future of the nation."
And speaking about Ram Mandir Dispute, Amar Singh said,
"This is a nation of Hindus and people should know that anything that is related to the betterment of Hindutva will surely happen today or tomorrow. Ram Mandir is already there in Ayodhya and if we talk about a cemented temple for Lord Rama, it will surely get under construction after a judgement by the Top Court."