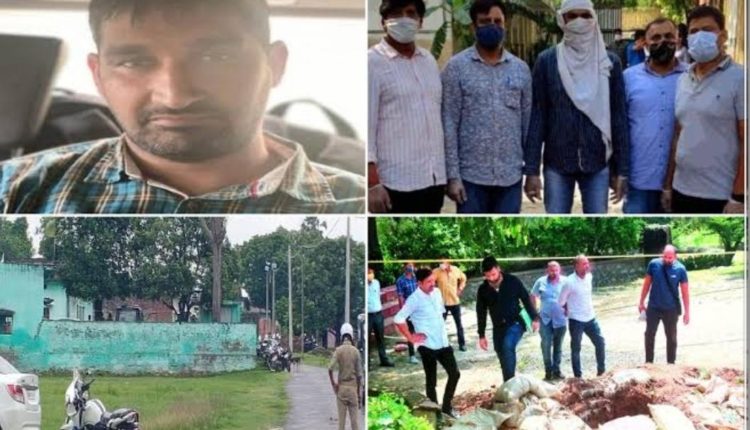 Post ISIS operative Yusuf's arrest, jacket and belt containing explosives recovered from the UP district
Ten News Network
A day after Delhi Police brought ISIS operative Abu Yusuf to his native village Badhya Bhaisahi in Utraula area of Balrampur, massive recoveries were made from his native place including many wearables with explosives.
Yusuf was arrested after a brief encounter in Delhi last night.
After a police team took him to Balrampur,
incriminating materials including a brown colour jacket containing three explosive packets and a blue colour check jacket containing 4 explosive packets were recovered.
Sharing details, Pramod Kushwaha, Delhi Deputy Commissioner of Police said, "All explosives were removed safely and a leather belt containing explosive 3 Kg approx was also recovered".
He also added that two explosive jackets, one explosive belt, around 9-kg of raw explosives, ball bearings, 7 cylindrical boxes, timer, 4 batteries, ISIS flag and board on which ISIS operative Abu Yusuf used to practice shooting were also recovered from his village.
Meanwhile, Yusuf's family members have expressed shocked at the developments.
Kafeel Ahmed (father of ISIS operative Abu Yusuf who was arrested y'day in Delhi) in Balrampur said, "I regret he was involved in such activities. I wish he could be forgiven for once if possible but his act is wrong. Had I known about his activities I would have asked him to leave us".
Wife of Abu Yusuf (ISIS operative arrested from Delhi y'day) however, said that such material was stored in her house
"He had stored gunpowder & other materials at home here. When I told him he should not do such things, he told me that I should not stop him. I wish he could be forgiven. I have four kids. Where will I go?", she told reporters.