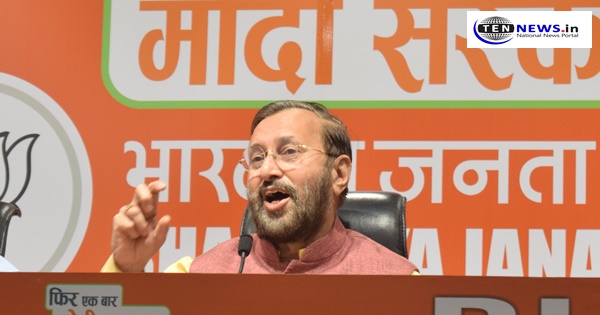 Prakash Javadekar defends PM Modi's remark on Rajiv Gandhi, Hits back on Congress
PRERIT CHAUHAN / JITENDER PAL- TEN NEWS
New Delhi: (05/05/2019) Union Minister Prakash Javadekar held a press conference at BJP Headquarters defending PM Modi's remark on Rajiv Gandhi.
Even after 5 years rule, PM Modi has 70% approval rate. Gandhis are rattled, they can't tolerate it and think who is this challenger said, Prakash Javadekar a day after the PM's comment on Rajiv Gandhi.
Addressing the Media, Javadekar said,
"Congress are playing politics of abuses. Gandhi's are rattled and they can't tolerate it. Rajiv Gandhi defended the 1984 riots. People of the country know everything. After four phases of polling, it is clear that Congress is losing this election."
He further said, "Congress is getting desperate as eight out of ten people support PM Modi. I am surprised to see the violent reaction of both sister and brother (referring to Rahul Gandhi and Priyanka Gandhi) on a true statement made by Prime Minister. Rahul Gandhi is calling names and cursing Modi because of dynast arrogance, and think power is their birth right."
"The Congress-led UPA government gave 2G scam, CWG scam to the country. The party is known for corruption in every deal and for taking commission in different forms," added Javadekar.